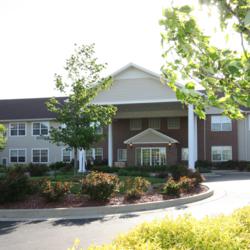 Eat Smart, Live Strong
Bradley, Illinois (PRWEB) November 09, 2012
Bowman Estates of Danville, a BMA affordable assisted living community, is participating in the Provena United Samaritans Medical Center 2012 Festival of Trees.
 
The festival is being held from Saturday, Nov. 10, through Thursday, Nov. 15, at the David S. Palmer Arena in Danville, Illinois.
 
Bowman Estates provides seniors of all incomes with the opportunity to live in a residential apartment-home environment and receive personal assistance and help with medications.
 
The tree we decorated for the Festival is based on the theme of "Eat Smart, Live Strong," says Trudy Wolf-DeRoeck, Director of Marketing for Bowman Estates.
 
"Eat Smart, Live Strong" is an exercise and nutrition program for older adults.
 
On Saturday, Nov. 10, the hours for the Festival of Trees are from 10 a.m. to 9 p.m. Admission is free on Saturday for individuals who donate blood during the Blood Drive from 11 a.m. to 3 p.m.
 
Sunday, Nov. 11, is Family Day. Admission for children and Veterans is free, and the 144th Army Concert band will be performing. The hours for the festival on Sunday are from noon to 8 p.m.
 
The hours on Monday, Tuesday and Wednesday, Nov. 12, 13 and 14, are from 9 a.m. to 9 p.m.
 
On Thursday, Nov. 14, the Festival of Trees is scheduled to be open from 3 to 9 p.m., and admission is free if you donate a non-perishable food item.
 
The David Palmer Arena is located at 100 W. Main Street in Danville, Illinois.
 
For more information about the 2012 Festival of Trees, visit http://www.provena.org/usmc/body_usmcfoundation.cfm%20?id=803 or call 217-442-6583.
 
Bowman Estates of Danville is located at 1968 N. Bowman Ave. in Danville, Illinois. 
 
The community is fully certified to operate through the Illinois Supportive Living program and is managed by BMA Management, Ltd. the largest provider of assisted living in Illinois.
 
"Our focus is on providing older adults with the love, compassion and dignity that they deserve in addition to the care and assistance that they need," says Rod Burkett, President and Chief Executive Officer of BMA. "Our emphasis is on helping each resident achieve and maintain as much independence as possible for as long as possible."
 
Affordable assisted living communities such as Bowman Estates of Danville provide older adults with a wonderful alternative to a nursing home or to struggling alone at home, Burkett adds. Older adults of all financial means, including those on Medicaid or who only receive Social Security benefits, can qualify for residency.
 
BMA manages 36 senior living communities in Illinois, housing more than 3,300 homes and apartment.
 
BMA communities in central Illinois include the Prairie Winds affordable assisted living community in Urbana; the Eagle Ridge affordable assisted living community in Decatur; and the Bridle Brook assisted living and memory care community in Mahomet.
For more information on BMA Management, Ltd. and the managed senior communities, please visit http://www.bma-mgmt.com