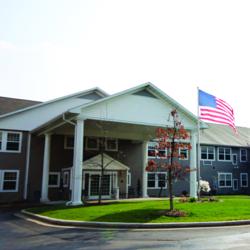 This half-hour of specialized physical activity was developed and has been tested by professionals in aging
Bradley, Illinois (PRWEB) June 25, 2013
Eagle Ridge of Decatur, a BMA affordable assisted living community, is hosting a low impact exercise program for older adults at 10 a.m. on Mondays, Tuesdays and Thursdays during the month of July.
The community, which is located at 875 W. McKinley Ave. in Decatur, Illinois, serves older adults of all incomes, including those on Medicaid, who need some help to maintain their independence.
"This half-hour of specialized physical activity was developed and has been tested by professionals in aging," says Amy Bretz, Administrator of Eagle Ridge. Mary Hooker, the community's Resident Services Coordinator, will led the Live Strong exercise program, which is open to the public. There is no cost to attend.
The program is part of our Eat Smart, Live Strong initiative, which is designed to improve health and nutritional habits, says Bretz. "Our emphasis is on motivating residents to engage in 30 minutes of physical activity and to eat 3.5 cups of fruits and vegetables every day."
For more information about the Live Strong exercise program or Eagle Ridge, call 217-872-1282.
The community combines residential apartment-home living with the availability of personal assistance, help with medications, and a variety of convenience and support services.
Residents live in private apartments that include a kitchenette, spacious bathroom with shower and grab bars, individually-controlled heating and air conditioning, and an emergency alert system.
Certified nursing assistants, working under the direction of a licensed nurse, are on-duty 24 hours a day, seven days a week. All three meals each day, housekeeping and laundry are among the included services.
"We provide older adults of all incomes with the wonderful alernative to a nursing home or to struggling alone at home," says Bretz. "Residents also benefit from all of the opportunities that are available to socialize and participate in activities such as our exercise programs."
Eagle Ridge is certified to operate through the Illinois Supportive Living program and managed by BMA Management, Ltd., the largest provider of assisted living in Illinois.
"Our focus is on providing residents with the love, compassion and dignity that they deserve and the help and assistance that they need," says Rod Burkett, CEO and President of BMA Management.
Communities managed by BMA include the Heritage Woods affordable assisted living communities in Charleston, Flora and Watseka, Illinois; the Bowman Estates affordable assisted living community in Danville; and the Prairie Winds affordable assisted living community in Urbana.
BMA also manages the Bridle Brook of Mahomet assisted living and memory care community in Champaign County.
For more information about BMA Management; the assisted living, senior living and memory care communties that the company operates; and the company's management, development and consulting services, visit www-bma-mgmt.com or call 1-877-882-1495 toll-free.