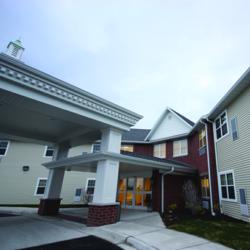 There'll also be carolers, family photos and a visit by Mr. and Mrs. Claus
Bradley, Illinois (PRWEB) November 24, 2012
Heritage Woods of Dwight, a BMA affordable assisted living community, is hosting a Christmas in the Woods holiday party from 10 a.m. to 3 p.m. on Saturday, Dec. 1.
The community in Dwight, Illinois, offers older adults of all incomes the opportunity to live in a residential apartment-home environment and receive personal assistance and help with medications.
The Holiday Party will feature a Christmas Buffet and horse-drawn carriage rides from 11 a.m. to 2 p.m.
"There'll also be carolers, family photos and a visit by Mr. and Mrs. Claus," says Becky Gish, Resident Services Coordinator for Heritage Woods of Dwight. "Everyone is invited to attend so be sure to invite your family and friends."
Also, Dec. 1 is the first day of Heritage Woods of Dwight's 2012 Festival of the Trees.
Decorated trees donated by area businesses, clubs, organizations and individuals will be on display at Heritage Woods from Dec. 1 through Dec. 18.
The community is auctioning off the trees, with the funds from the winning bids being donated to the charity or not-for-profit organization of the winning bidder's choice.
"We invite you to come and see the decorated trees and make your bids," says Gish. "The bidding starts on Dec. 1 and runs through 8 p.m. on Tuesday, Dec. 18."
For more information about the Holiday Party, the Festival of Trees, or Heritage Woods of Dwight, call 815-584-9280.
The Heritage Woods of Dwight affordable assisted living community is located at 701 E. Mazon Ave. in Dwight, Illinois.
The community is fully certified to operate through the Illinois Supportive Living program and is managed by BMA Management, Ltd.
Based in Bradley, Illinois, BMA is the largest provider of assisted living in Illinois.
Heritage Woods of Dwight features private apartments, with a kitchenette, spacious bathroom with shower and grab bars, and an emergency alert system.
Certified nursing assistants are on-duty 24 hours a day, seven days a week. Meals, housekeeping and laundry are among the included services.
"Communities such as Heritage Woods of Dwight provide older adults with a wonderful alternative to a nursing home or to struggling alone at home," says Rod Burkett, President and Chief Executive Officer of BMA Management.
Among the communities managed by BMA are the Heritage Woods affordable assisted living communities in Bolingbrook, Manteno, Ottawa, Plainfield and Yorkville, Illinois.
For more information on BMA Management, Ltd. and the managed senior communities, please visit http://www.bma-mgmt.com