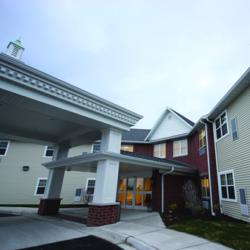 "Our focus is on providing the love, compassion and dignity that older adults deserve"
Bradley, IL (PRWEB) December 26, 2012
BMA Management, Ltd., the largest provider of assisted living in Illinois, recently honored Heritage of Dwight affordable assisted living serves older adults of all incomes, including those on Medicaid] for resident satisfaction.
The affordable assisted living community in Dwight, Illinois, serves older adults of all incomes, including those on Medicaid.
Heritage Woods was honored with BMA's 2012 "Making a Difference" Award.
The award was presented to Heritage Woods of Dwight for being the BMA community that had the best results on two key questions in the 2012 resident satisfaction survey, says Kim Ioerger, Director of Operations for BMA.
BMA manages 36 senior living communities, housing more than 3,300 homes and apartments.
The questions measured the overall satisfaction in the community in which they live and the likelihood that residents would refer others to the community.
BMA also presented Special Recognition Certificates for resident satisfaction survey results to the Eagle Ridge affordable assisted living community in Decatur, Illinois; the Grand Prairie affordable assisted living community in Macomb, Illinois; and the John Evans Supportive Living community in Pekin, Illinois.
The survey process that BMA uses to measure resident satisfaction was developed and is administered by Life Services Network, the largest eldercare association in Illinois. The survey measures resident satisfaction with the living environment; the quality of life at the community; the services and amenities; staff and management; safety and security; and food and dining.
Located at 701 E. Mazon in Dwight, Illinois, Heritage Woods of Dwight is certified to operate through the Illinois Supportive Living program and has been managed by BMA since the community opened for occupancy in November 2009.
More information about the affordable assisted living community can be obtained by calling 815-584-9280.
"The community provides a wonderful alternative to a nursing home or to struggling alone at home," says Peg Spear, Director of Marketing.
Residents live in private apartments. Personal assistance and help with medications are available.
Certified nursing assistants are on-duty 24 hours a day, seven days. Meals, housekeeping and laundry are among the included services.
"Our focus is on providing the love, compassion and dignity that residents deserve in addition to the care and assistance that they need," says Spear. "Our emphasis is on helping residents to achieve and maintain as much independence as possible for as long as possible."
The senior living communities managed by BMA include the Heritage Woods affordable assisted living communities in Ottawa, Plainfield, Bolingbrook and Manteno. __title__ Heritage Woods of Dwight affordable assisted living serves older adults of all incomes, including those on Medicaid.]