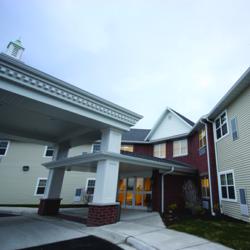 "Heritage Woods serves older adults of all incomes, including those on Medicaid"
Bradley, IL (PRWEB) February 03, 2013
Heritage Woods of Dwight, a BMA affordable assisted living community, is hosting a Heart Health Day on Thursday, Feb. 7.
The community, which is located at 701 E. Mazon in Dwight, Illinois, serves seniors of all incomes, including those on Medicaid.
With February designated Heart Health Month, the community is hosting Heart Health Day as a community service.
Chicago Home Health Care will be offering blood pressure screening at no charge from noon until 2 p.m.
At 2 p.m., Heritage Woods will be hosting a community health educational program on heart health. Nancy Kuster of OSF Healthcare will be speaking on the "Heart Truth."
"We invite you to come and have your blood pressure checked and attend the information program on heart health," says Peg Spear, Director of Marketing for Heritage Woods.
For more information on the Heart Health Day activities or the affordable assisted living lifestyle that is available at Heritage Woods, call 815-584-9280.
"Heritage Woods provides older adults who need some help to maintain their independence with a wonderful alternative to a nursing home or to struggling alone at home," says Spear. "Residents benefit from the opportunity to live in a residential apartment-home environment and receive personal assistance and help with medications."
Each of the private studio and one-bedroom apartments at Heritage Woods features a kitchenette, spacious bathroom with shower and grab bars, and emergency alert system.
Certified nursing assistants are on-duty 24 hours a day, seven days a week. Meals, housekeeping and laundry are among the included services.
"Residents also benefit from all of the opportunities that are available to socialize with friends and neighbors and participate in social activities no matter the weather," says Spear.
Heritage Woods of Dwight is fully certified to participate in the Illinois Supportive Living program and is managed by BMA Management, Ltd., the largest provider of assisted living in Illinois.
Based in Bradley, Illinois, BMA operates 36 senior living communities, housing more than 3,300 homes and apartments.
Communities managed by BMA include the Heritage Woods affordable assisted living communities in Bolingbrook, Manteno, Ottawa, Plainfield, Watseka and Yorkville, Illinois. BMA also manages John Evans Supportive Living in Pekin, Illinois.
For more information on BMA Management, Ltd. and the managed senior communities, please visit http://www.bma-mgmt.com