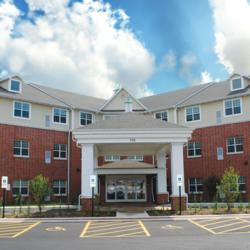 Bradley, IL (PRWEB) January 21, 2013
Heritage Woods of South Elgin, a BMA affordable assisted living and memory care community, will be hosting an informational program on Music Therapy at 10 a.m. on Friday, Jan. 25.
The community, which is located at 700 N. McLean Blvd. in South Elgin, Illinois, serves seniors of all incomes, including those on Medicaid.
"If ever wondered what is music therapy, what are the benefits, and how might it help you or a loved, come and get answers to your questions from a Certified Music Therapist," says Andrea Lillie, Director of Marketing for Heritage Woods of South Elgin.
The speaker also will be talking about what current research shows about music therapy.
The program is open to the public. There is no cost to attend.
For more information, call 847-531-8360.
Heritage Woods of South Elgin features affordable assisted living apartments for adults 65 and older who need some help to maintain their independence. The community also features one of the first affordable memory care communities approved by the State to operate through the Illinois Supportive Living program. White Oaks at Heritage Woods of South Elgin is designed for older adults with Alzheimer's disease or related dementia.
"Our community provides older adults with a wonderful alternative to a nursing home or to struggling alone at home," says Trish Uttich, Administrator of Heritage Woods of South Elgin.
Residents benefit from being able to live in a residential-apartment home environment and receive personal assistance and help with medications.
They also benefit from all of the opportunities that are available to socialize with friends and neighbors and participate in activities and special programs such as the one on music therapy, says Uttich.
"Our focus is on providing residents with the love, compassion and dignity that they deserve and the help and assistance that they need," says Uttich.
Heritage Woods of South Elgin is managed by BMA Management, Ltd., the largest provider of assisted living in Illinois.
Based in Bradley, Illinois, BMA operates 36 senior living communities, hosusing more than 3,300 homes and apartments.
Communities managed by BMA include the Heritage Woods assisted living community in Huntley, Illinois, and the Heritage Woods affordable assisted living communities in Batavia, Bolingbrook, DeKalb, McHenry, Plainfield and Yorkville, Illinois.
For more information on BMA Management, Ltd. and the managed senior communities, please visit http://www.bma-mgmt.com.