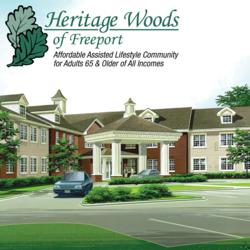 The $12 million development is scheduled to open for occupancy this summer.
Bradley, Illinois (PRWEB) January 22, 2013
Kelly Ziemer Hillan of Ridott, Illinois, has been named Administrator of Heritage Woods of Freeport, a BMA affordable assisted living community that is being developed in Stephenson County, Illinois.
The community, which is being developed through a partnership between BMA Management, Ltd., of Bradley, Illinois, and the Stephenson County Nursing Center Foundation, will serve adults 65 and older of all incomes, including those on Medicaid.
Hillan has served as Executive Director of the Senior Resource Center in Freeport since 2007. The agency provides a wide variety of programs and services for adults 55 and older who live in northwest Illinois.
Hillan has more than 20 years of health care experience, including serving as the Family and Health Services Manager for La Voz Latina in Rockford, Illinois; Research Program Coordinator for Swedish American Hospital in Rockford; and Program Manager for the Child Abuse Council in Moline, Illinois.
She graduated cum laude from Marycrest College in Davenport, Iowa, with a Bachelor of Social Work degree, and earned a Master of Organizational Leadership degree from St. Ambrose University in Davenport.
The Heritage Woods of Freeport assisted living community is being developed on more than five acres of property on the southwest corner of West Pearl City Rd. and South Forest Rd. in Freeport. The $12 million development is scheduled to open for occupancy this summer.
"We will be opening a temporary Sales Office on Feb. 11 and will begin to take reservations for the apartments at Heritage Woods in February," says Hillan. The temporary Sales Office will be located in Lincoln Mall in Freeport, near the Senior Resource Center.
Heritage Woods of Freeport will house 76 studio and one-bedroom apartments, with each apartment featuring a kitchenette, spacious bathroom with shower and grab bars, and an emergency response system.
Certified nursing assistants will be on-duty 24 hours a day, seven days a week to provide residents with personal assistance and help with medications. Meals, housekeeping and laundry will be among the included services.
The community will be fully certified to operate through the Illinois Supportive Living program and will be managed by BMA Management, which is the largest provider of assisted living in Illinois.
The assisted living communities managed by BMA include Heritage Woods of Belvidere, Heritage Woods of Rockford and Heritage Woods of Sterling.
"Our focus at communities such as Heritage Woods of Freeport is on providing older adults with the love, compassion and dignity that they deserve in addition to the help and assistance that they need," says Rod Burkett, President and CEO of BMA. "Our emphasis is on helping each resident to achieve and maintain as much dignity as possible for as long as possible."
To be added to the Interest List to receive information about Heritage Woods of Freeport as soon as it becomes available, call 1-877-882-1495 toll-free. For more information on BMA Management, Ltd. and the senior living communities, please visit http://www.bma-mgmt.com.