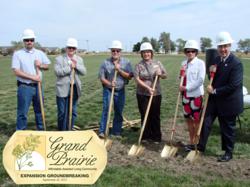 Our focus is to provide residents with the help they need and the love, compassion and dignity they deserve.
Bradley, Illinois (PRWEB) October 23, 2012
A ground breaking ceremony was held to mark the start of a $4.8 million expansion project at the Grand Prairie affordable assisted living community in Macomb, Illinois.
"With the expansion, Grand Prairie will be nearly doubling in size," says Andrea Keene, Administrator. "When finished, we will have 84 apartments for older adults who need some help to maintain their independence."
Grand Prairie is the only senior living community in McDonough County to be certified by the Illinois Department of Public Health to operate as a Supportive Living community, says Keene. With the certification, Grand Prairie is able to serve adults 65 and older of all incomes, including those on Medicaid.
"The community provides a wonderful alternative to a nursing home or to struggling alone at home," says Rick Banas, of BMA Management, Ltd., the company that has managed Grand Prairie since March 2010. Based in Bradley, Illinois, BMA is the largest provider of assisted living in Illinois and the 16th largest provider in the nation.
"Residents of Supportive Living communities such as Grand Prairie benefit from the opportunity to live in their own private apartment and get the help with medications and personal assistance they need," says Banas.
Three meals a day, housekeeping and laundry are among the included services.
"In addition, one of the things we often find to be most important is that residents enjoy so many opportunities to socialize and to participate in a variety of social and recreational activities and programs," says Banas. "Our focus is to provide residents with the help they need and the love, compassion and dignity they deserve," he adds.
Macomb Mayor Michael Inman attended the Ground Breaking Ceremony and talked about what an outstanding option and opportunity Supportive Living is for seniors in Macomb and McDonough County.
Grand Prairie is owned by a group of local investors. Financing for the expansion is coming from three local banks. They are First Bankers Trust, Mid-America National Bank and First State Bank.
The expansion was designed by Renaissance Architects of Springfield, Illinois. Laverdiere Construction, Inc., of Macomb, is serving as the General Contractor.
The expansion is expected to be completed and open for occupancy in the Spring of 2013.
Grand Prairie is located on the southeast side of Macomb, just east of the intersection of E. Grant and S. Candy Lane.
For more information about the expansion and affordable assisted living lifestyle that is available at Grand Prairie for those of all incomes, call 309-833-5000.
Other affordable assisted living communities managed by BMA include Heritage Woods of Aledo in Aledo, Illinois; Heritage Woods of Moline in Moline, Illinois; and John Evans Supportive Living in Pekin, Illinois.
For more information please visit http://www.bma-mgmt.com