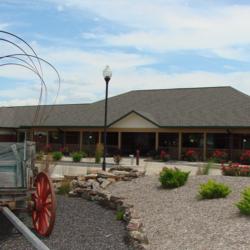 "We offer a wonderful alternative to a nursing home or struggling alone at home"
Bradley, Illinois (PRWEB) January 03, 2013
Grand Prairie of Macomb, a BMA affordable assisted living community in Macomb, Illinois, will be hosting a Matter of Balance Class led by Amy Griswold of the Western Illinois Area Agency on Aging.
The class, which is designed to help participants reduce the risk of falling, will meet at Grand Prairie from 1:30 to 3 p.m. on Thursdays for eight weeks, beginning on Jan. 10.
The class is open to the public as well as residents of Grand Prairie. A $10 donation is suggested for those attending the class.
To register or for more information, call Sarah McDonald at 309-833-5000.
Grand Prairie is located at 1307 Meadowlark Lane in Macomb, Illinois.
"Grand Prairie is the only senior living community in McDonough County that is certified to operate through the Illinois Supportive Living program," says Andrea Keene, Administrator. "This gives us the opportunity to serve older adults of all incomes, including those on Medicaid, who need some help to maintain their independence."
Keene adds, "we offer a wonderful alternative to a nursing home or to struggling alone at home."
Residents live in private apartments and receive personal assistance and help with medications.
Certified nursing assistants are on-duty 24 hours a day, seven days a week. Meals, housekeeping and laundry are among the included services.
"Our focus is on providing residents with the love.compassion and dignity that they deserve in addition to the care and assistance that they need," says Keene. "Our emphasis is on helping residents to achieve and maintain as much independence as possible for as long as possible."
In 2012, Grand Prairie launched a $4.8 million expansion project that will nearly double the number of apartments at the assisted living community.
Reservations for the apartments, which are scheduled to be ready for occupancy in the Spring, are being accepted.
Since March of 2010, Grand Prairie has been managed by BMA Management, Ltd., the largest provider of assisted living in Illinois.
Based in Bradley, Illinois, BMA operates 36 senior living communities, housing more than 3,300 homes and apartments.
Among the communities managed by BMA are the Heritage Woods affordable assisted living communities in Aledo and Moline, Illinois, and John Evans Supportive Living in Pekin, Illinois.
For more information on BMA Management, Ltd. and the managed senior communities, please visit http://www.bma-mgmt.com