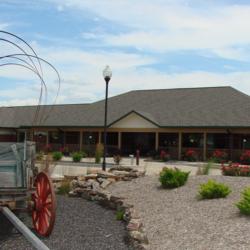 Bradley, Illinois (PRWEB) May 01, 2013
Grand Prairie of Macomb, a BMA affordable assisted living community, is hosting a Memory Lane Party starting at 11 a.m. on Sunday, May 5.
The community, which is located at 1307 Meadowlark Lane in Macomb, Illinois, serves older adults of all incomes, including those on Medicaid, who need some help to maintain their independence.
The party will feature a performance by Bryce Dexter and the King Graffiti Band.
There also will be a jump horse, face painting, and a visit from Rocky (WIU mascot), and "We'll be serving hot dogs, root beer floats and popcorn," says Andrea Keene, Administrator of Grand Prairie of Macomb.
At 2 p.m., the Western Illinois Museum will be hosting McDonough County Trivia. "So, get your team ready to compete for the championship," says Keene.
"Information about Grand Prairie and our recently opened expansion also will be available," adds Keene.
For more information, call 309-833-5000.
Grand Prairie of Macomb is the only senior living community in McDonough County to be certified to operate through the Illinois Supportive Living program. The community is managed by BMA Management, Ltd., the largest provider of assisted living in Illinois.
"We provide older adults with a wonderful alternative to a nursing home or struggling alone at home," says Keene. "Residents benefit from living in a residential apartment-home environment and receiving personal assistance and help with medications."
Certified nursing assistants are on-duty at Grand Prairie 24 hours a day, seven days a week. All three meals each day, housekeeping and laundry are among the included services.
"Residents also benefit from all of the opportunities that are available; to socialize with friends and neighbors and to participate in activities and special programs such as our Memory Lane Party," says Keene.
Based in Bradley, Illinois, BMA Management operates 36 senior living communities that together house nearly 3,400 homes and apartments.
"Our focus is on providing residents with the love, compassion and dignity that they deserve in addition to the help and assistance that they need," says Rod Burkett, President and CEO of BMA.
Communities managed by BMA include the Heritage Woods affordable assisted living communities in Aledo, Moline, Ottawa and Sterling, Illinois, and John Evans Supportive Living in Pekin.
For more information on BMA Management, Ltd. and the managed senior communities, please visit http://www.bma-mgmt.com.