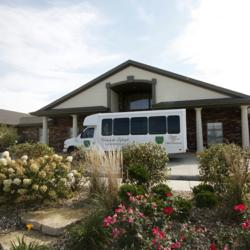 Bradley, Illinois (PRWEB) December 24, 2012
Bridle Brook of Mahomet, a BMA assisted living and memory care community in Champaign County, Illinois, hosts a "Hot to Trot" Walking Club from 9 to 10 a.m. on weekday mornings.
"The club gives you the opportunity to get in daily exercise without having to worry about the winter weather," says Angela Ford-Barden, Director of Marketing for Bridle Brook. "You can walk in the indoor comfort of our community and enjoy our beautiful horse-themed interior design."
Bridle Brook is located on the east side of Mahomet, Illinois, behind the Carle and Christie Clinics at 1550 Patton Dr.
"You can call us for more information about the Walking Club or our assisted living and memory care apartments," says Baden. "Our phone number is 217-586-3200.
The community is locally owned and is managed by BMA Management, Ltd., the largest provider of assisted living in Illinois.
"Our focus is on providing older adults with the love, compassion and dignity that they deserve in addition to the care and assistance that they need," says Rod Burkett, President and Chief Executive Officer of BMA. "Our emphasis is on helping each resident achieve and maintain as much independence as possible for as long as possible."
BMA is based in Bradley, Illinois, and manages 36 senior living communities, housing more than 3,300 homes and apartments.
The communities managed by BMA include the Prairie Winds affordable assisted living community in Urbana, Illinois, and the Eagle Ridge affordable assisted living community in Decatur, Illinois.
For more information on BMA Management, Ltd. and the managed senior communities, please visit http://www.bma-mgmt.com.