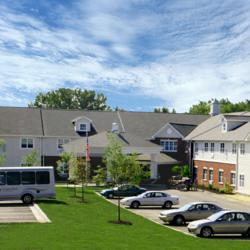 We invite you to join us as we honor our Veterans
Bradley, Illinois (PRWEB) November 07, 2012
Heritage Woods of McHenry, a BMA affordable assisted living community, is hosting a Veterans Day Celebration that will feature the music of Rick Pickren.
 
The celebration is scheduled for 3 p.m. on Monday, Nov. 12, at Heritage Woods, which is located at 4609 W. Crystal Lake Rd. in McHenry, Illinois.
 
The Heritage Woods community provides the opportunity for older adults of all incomes, including those on Medicaid, to live in a residential apartment-home environment and receive personal assistance and help with medications.
 
"We invite you to join us as we honor our Veterans," says Wayne Vistine, Administrator of Heritage Woods of McHenry.
 
Pickren is a descendant of Buffalo Bill Cody. He has co-starred in such feature films as "Major League," "U.S. Marshalls," and "While You Were Sleeping" and has been on the television shows "ER" and "Early Edition." He has shared the stage with George Strait, Merle Haggard, the Judds, Dolly Parton and Alabama.
 
"Come tap your toes and sing along," says Vistine. Refreshments will be served.
 
For more about the Veterans Day Celebration or the affordable assisted living lifestyle that is available at Heritage Woods of McHenry, call 815-344-2690 or visit the communities website at http://bma-mgmt.com/heritagewoodsmchenry.
 
Heritage Woods of McHenry is fully certified to operate through the Illinois Supportive Living program and is managed by BMA Management, Ltd.
 
BMA is the largest provider of assisted living in Illinois. 
 
"Our focus is on providing residents with the love, compassion and dignity that they deserve in addition to the care and assistance that they need," says Rod Burkett, President and CEO of BMA Management. "Our emphasis is on helping each resident achieve and maintain as much independence as possible for as long as possible."
 
BMA operates 36 senior living communities, housing more than 3,300 homes and apartments.
 
Among the communities managed by BMA are the Heritage Woods communities in Gurnee, Huntley and South Elgin, Illinois.
For more information on BMA Management, Ltd. and the managed senior communities, please visit http://www.bma-mgmt.com