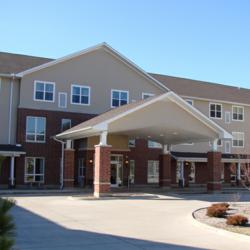 We provide a wonderful alternative to a nursing home or struggling alone at home.
Bradley, Illinois (PRWEB) June 29, 2013
Heritage Woods of Moline, a BMA affordable assisted living community, is hosting a Celebrating Our Independence Cookout from 11 a.m. to 1 p.m. on Friday, July 5.
The community, which is located at 5500 46th Ave. in Moline, Illinois, serves older adults of all incomes, including those on Medicaid, who need some help to maintain their independence.
The cookout is open to the public. There is no charge to attend.
For more information, call 309-736-5655.
The Heritage Woods of Moline affordable assisted living community combines residential apartment-home living with the availability of personal assistance, help with medications, and a variety of convenience and support services.
"We provide older adults with a wonderful alternative to a nursing home or to struggling alone at home," says Haldeman.
Residents live in private apartments that they furnish and decorate to their tastes. Each of the studio and one-bedroom floor plans includes a kitchenette, spacious bathroom with shower and grab bars, individually controlled heating and air conditioning, and an emergency alert system.
Certified nursing assistants, working under the direction of a licensed nurse, are on-duty 24 hours a day, seven days a week. All three meals, housekeeping and laundry are among the included services.
"Residents also benefit from all of the opportunities that are available to socialize with friends and neighbors and to participate in activities and special prorgams," says Haldeman.
Heritage Woods is certified to operate through the Illinois Supportive Living program and is managed by BMA Management, Ltd., of Bradley, Illinois.
BMA Management is the largest provider of assisted living in Illinois.
"Our focus is on providing residents with the love, compassion and dignity that they deserve and the help and assistance that they need," says Rod Burkett, President and CEO of BMA Management. "Our emphasis is on helping each resident to achieve and maintain as much independence as possible for as long as possible."
Communities managed by BMA Management include the Heritage Woods affordable living communities in Belvidere, DeKalb, Freeport, Ottawa, Rockford and Sterling, Illinois. BMA also manages the Grand Prairie affordable assisted living community in Macomb and the John Evans affordable assisted living community in Pekin.
For more information about BMA Management; the assisted living, senior living and memory care communities that the company operates; and the company's management, development and consulting services, visit http://www.bma-mgmt.com or call 1-877-882-1495 toll-free.