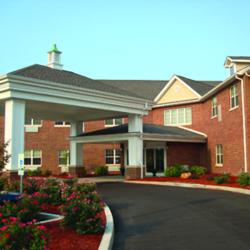 November… American Diabetes Awareness Month
Bradley, Illinois (PRWEB) October 31, 2012
Heritage Woods of Mt. Vernon, a BMA affordable assisted living community, is hosting a free community health education program at 2 p.m. on Tuesday, Nov. 6.
 
With November designated as American Diabetes Awareness Month, the program will feature a presentation by Petersen Health Care on Diabetes Awareness.
 
The program is open to the public and will be held at Heritage Woods of Mt. Vernon, which is located at 1033 S. 42nd Street in Mt. Vernon, Illinois.
 
For more information, call 618-241-9518.
 
Heritage Woods of Mt. Vernon is designed to provide seniors with the opportunity to live in a residential apartment-home environment while receiving the help with medications and personal assistance they need.  With the community certified to operate through the Illinois Supportive Living program, Heritage Woods serves older adults of all incomes, including those on Medicaid.
 
Heritage Woods is managed by BMA Management, Ltd.  Based in Bradley, Illinois, BMA is the largest provider of assisted living in Illinois.
 
BMA also manages the Heritage Woods of Benton, Heritage Woods of Flora and Heritage Woods of McLeansboro affordable assisted living communities and Heritage Woods of Centralia, which features senior living apartments, affordable assisted living apartments and duplex rental homes for low income older adults.
For more information on BMA Management, Ltd. and the managed senior communities, please visit http://www.bma-mgmt.com