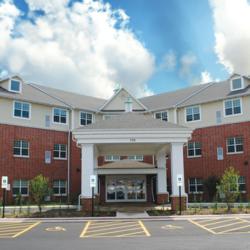 "Come experience the benefits of laughter therapy"
Bradley, Illinois (PRWEB) April 30, 2013
Heritage Woods of South Elgin, a BMA affordable assisted living and memory care community in Kane County, Illinois, is hosting a Laughter Therapy program at 2 p.m. on Friday, May 3.
The community, which is located at 700 N. McLean Blvd. in South Elgin, serves older adults of all incomes, including those on Medicaid.
"Come experience the benefits of laughter and learn how laughter can make an immediate impact in your attitude," says Andrea Lillie, Director of Marketing for Heritage Woods of South Elgin.
Trained laughter expert Colleen Caron from St. Alexius Behavorial Health Hospital in Hoffman Estates, Illinois, will be "guiding us through the practice of laughter therapy," says Lillie.
The program is open to the public. There is no charge to attend.
For more information and to reserve a seat for the Laughter Therapy program, call 847-531-8360.
Heritage Woods of South Elgin is certified to operate through the Illinois Supportive Living program and is managed by BMA Management, Ltd., the largest provider of assisted living in Illinois.
The community features apartments for adults 65 and older who need some help to maintain their independence and four specialized neighborhoods of apartments for older adults with Alzheimer's disease or related dementia.
"Residents benefit from the opportunity to live in a residential apartment-home environment and receive personal assistance and help with medications," says Lillie. "Residents also benefit from all of the opportunities that are available to socialize with friends and neighbors and to participate in activities and special programs such as the program on Laughter Therapy."
Based in Bradley, Illinois, BMA Management operates 36 senior living communities that together house nearly 3,400 homes and apartments.
"Our focus is on providing residents with the love, compassion and signity that they deserve and the help and assistance that they need<' says Rod Burkett, President and CEO of BMA.
Communities managed by BMA include the Heritage Woods affordable assisted living communities in Batavia, Bolingbrook, Chicago, Gurnee, Plainfield and Yorkville, Illinois, and the Churchview Supportive Living community in Chicago.
BMA also manages the Heritage Woods assisted living community in Huntley, Illinois.
The company will be managing the Deer Path affordable assisted living community that is being developed in Huntley for physically disabled adults 22 to 64 years of age. The community is scheduled to open for occupancy later this year. Reservations are being accepted.
For more information about BMA Management or the assisted living, senior living and memory care communities that the company operates, visit http://www.bma-mgmt.com or call 1-877-882-1495 toll-free.