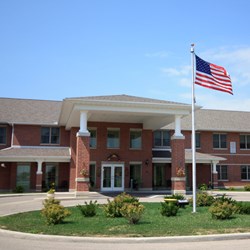 We encourage older adults to join us for a specialized training program that will help them live the healthiest life possible.
Bradley, Illinois (PRWEB) August 31, 2013
Heritage Woods of Sterling, a BMA affordable assisted living community, will begin hosting a Strong for Life exercise program in September.
The community, which is located at 2205 Oak Grove Ave. in Sterling, Illinois, serves older adults of all incomes, including those on Medicaid, who need some help to maintain their independence.
Strong for Life is a seated chair exercise class that involved stretching movements to improve flexibility and balance. The 30-minute classes will begin at 1:30 p.m. on Mondays, Tuesdays, Wednesdays, Thursdays and Fridays.
"We encourage older adults to join us for a specialized training program that will help them live the healthiest life possible," said Diana Lopez, Director of Marketing.
At Heritage Woods of Sterling, health and fitness are a priority.
The community, which is managed by BMA Management, Ltd., has implemented the Eat Smart, Live Strong program. The initiative was originally developed by the United States Department of Agriculture for adults between the ages of 60 and 74. It is designed to encourage older adults to increase the amount of fruits and vegetables they eat to at least 3½ cups per day and to participate in at least 30 minutes of moderately intense physical activity each day.
The average age of residents in assisted living communities is 84. The communities serve older adults who need some help with activities of daily living to maintain their independence.
Earlier this year, BMA received a Best of the Best award from the Assisted Living Federation of America (ALFA) in the "A Taste of the Future: The Next Generation Dining Menu" category. ALFA is the largest national association exclusively dedicated to professionally-managed, resident-centered senior living communities and the residents and families they serve. The Best of the Best awards program is designed to recognize outstanding business practices in the senior living industry.
For more information, call 309-477-8800.
Heritage Woods of Sterling combines residential apartment-home living with the availability of personal assistance, help with medications, and a variety of convenience and support services.
The community recently was recognized as one of the Top 20 assisted living communities in Illinois by Assisted Living Today for providing trustworthy and competent care and fostering the independence and individuality of residents.
"We provide older adults with a wonderful alternative to a nursing home or to struggling alone at home," says Lopez.
Residents live in private apartments that they furnish and decorate to their tastes. Each of the studio and one-bedroom floor plans include a kitchenette, spacious bathroom with shower and grab bars, individually-controlled heating and air conditioning, and emergency alert system.
Certified nursing assistants are on-duty 24 hours a day, seven days a week. Meals, housekeeping and laundry are among the included services.
"Residents also benefit from all of the opportunities that are available to socialize with friends and neighbors and participate in activities and special programs," says Lopez.
Heritage Woods of Sterling is certified to operate through the Illinois Supportive Living program.
"Our focus," says Rod Burkett, President and CEO of BMA Management, "is to provide the residents of Heritage Woods of Sterling with the love, compassion and dignity they deserve and the help and assistance they need. Our emphasis is on helping each resident achieve and maintain as much independence as possible for as long as possible."
BMA Management, the largest provider of assisted living in Illinois, is based in Bradley, Illinois.
Communities managed by BMA include the Heritage Woods affordable assisted living communities in Belvidere, DeKalb, Dwight, Freeport, Moline, Ottawa and Rockford.
For more information about BMA Management; the assisted living, senior living and memory care communities that BMA operates; and the company's management, development and consulting services, visit http://www.bma-mgmt.com or call 1-877-882-1495.