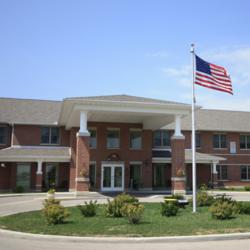 "We thought there would be no better way to express our love and compassion"
Bradley, Illinois (PRWEB) February 04, 2013
Residents and staff of Heritage Woods of Sterling, a BMA affordable assisted living community, are making Valentine's Cards this week to send to the students at Sandy Hook Elementary School in Newtown, Connecticut.
Located at 2205 Oak Grove Ave. in Sterling, Illinois, Heritage Woods serves seniors of all incomes, including those on Medicaid, who need some help to maintain their independence.
"Our focus at Heritage Woods is on Touching Lives and providing love, compassion and dignity," says Dawn Powell, Administrator Heritage Woods, "so we thought there would be no better way to touch lives and express our love and compassion than to make 460 Valentine's Cards for Sandy Hook."
Residents and staff are also making Valentine's Cards for students at the Christ Lutheran School in Sterling, Illinois, in appreciation for all the things that members of Christ Lutheran does for Heritage Woods.
Powell adds that "we invite those who would like to help us in making Valentine's Cards to join us." Residents and staff will be getting together at 2 p.m. on Tuesday, Feb. 5, and at 10 a.m. on Friday, Feb. 8.
For more information, call 815-625-7045.
Heritage Woods of Sterling recently was selected as one of the Top 20 assisted living communities in Illinois by Assisted Living Today.
The community is fully certified to operate through the Illinois Supportive Living program and is managed by BMA Management, Ltd., the largest provider of assisted living in Illinois.
"We provide older adults with a wonderful alternative to a nursing home or to living along at home," says Powell. "Residents benefit from the opportunity to live in a residential apartment-home environment and receive personal assistance and help with medications."
Each of the private studio and one-bedroom apartments at Heritage Woods features a kitchenette, spacious bathroom with shower and grab bars, and an emergency alert system.
Certified nursing assistants are on-duty 24 hours a day, seven days a week. Meals, housekeeping and laundry are among the included services.
"Residents also benefit from all of the opportunities that are available to socialize with friends and participate on activities and special events no matter what the weather," says Powell.
Based in Bradley, Illinois, BMA Management operates 36 senior living communities, housing more than 3,300 homes and apartments.
Communities managed by BMA include the Heritage Woods affordable assisted living communities in Belvidere, DeKalb, Moline, Ottawa and Rockford, Illinois.
A BMA affordable assisted living community is under development in Freeport, Illinois. Heritage Woods of Freeport is scheduled to open for occupancy in the summer of 2013.
For more information on BMA Management, Ltd. and the managed senior communities, please visit http://www.bma-mgmt.com