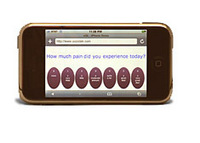 Scottsdale, AZ (PRWEB) May 8, 2008
.assisTek, the global leader tablet ePROs, will be offering demonstrations of assisTek's l large 9 inch touch-screens and Apple iPhone ePRO platforms at The Centers for Business Intelligence (CBI) Forum on Patient Reported Outcomes (PRO) conference May 21-22 in Philadelphia, PA.
Jeff Sloan of the Mayo Clinic and other academic and industry thought-leaders will convene at CBI's 2nd Patient Reported Outcomes Conference to share their experiences and knowledge of the FDA Guidance document on patient-reported outcomes.
"We are proud to be a part of this conference. It gives us a chance to meet with PRO professionals face-to-face to hear their challenges. In response to recent developments in the industry, we will demonstrate how TouchPRO and iPRO products deliver data in clinical trials that is over 99% complete, reduce workload by over 90%, and significantly increase both speed to data access and management control," says Joy Hebert, Chief Operating Officer.
Interested conference attendees should contact Gary Coraggio at gary.coraggio@assistek.com to schedule a demonstration.
About .assisTek:
.assisTek is the global leader in Tablet ePROs and has revolutionized the process of collecting patient feedback during clinical trials by helping sites collect the data electronically and systematically through large 9 inch tablet touch-screens, iPhones and on the web.
.assisTek's large touch-screen products are the most advanced in the industry and the .assisTek team has the deepest knowledge and experience in the industry having served more than 45,000 patients in more than 35 therapeutic areas at more than 4,500 sites across 5 continents.
.assisTek, formerly Assist Technologies, can be found on the web at assisTek.com
###