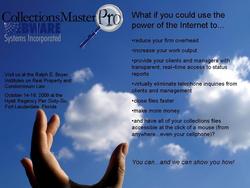 (PRWEB) October 9, 2009
In a June 11, 2009 article by Associated Press writer Paul J. Weber, a prominent Florida community association attorney was noted as saying that he has increased his staff from three to sixteen in the past eighteen months to handle a mounting caseload of 3,500 open collections. While increasing staff is the typical reaction to increases in workload, doing so does not address the underlying and predominant need to find a cost effective and efficient solution to managing those increases. CollectionsMasterPro© does. CollectionsMasterPro© is the premier Internet-based system for law firms to automate and systemitize assessment collection and lien foreclosure actions for homeowners and condominium associations. From the time that a new matter is turned over to counsel, until the matter is resolved by payment or foreclosure, CollectionsMasterPro© helps lawyers work smarter not harder by simplifying and standardizing association receivable information, digitizing and maintaining files, automating client, debtor and third party communications, tracking all file activities, automatically generating reports and notifications so that matters can proceed in a timely and efficient manner, and much, much more. How many attorney and staff hours are spent preparing monthly status reports and responding to telephone inquiries from managers and board members? Even worse, how much time is spent mending client relationships because of complaints of lack of communication? CollectionsMasterPro© automatically generates summary and detailed status reports that are available on demand, twenty-four hours a day, seven days a week, three hundred sixty-five days a year in a password protected, real-time environment for boards and managers. CollectionsMasterPro© provides complete transparency so clients know everything the firm knows, as soon as the information becomes available. And it takes no more effort than managing and moving the files. Now that's working smarter, not harder!
Beyond just collections, whether preparing estoppel information, requesting a title search, or preparing a foreclosure complaint, CollectionsMasterPro© automates the collections and foreclosures processes, provides for faster and more accurate preparation, and reduces costs.
Because file integrity means everything, data, documents, and files are stored on individual, secure "virtual" servers, fully backed up every 15 minutes, to ensure that files are always there when you need them.
Originally developed in practice as a way for a sole-practitioner to improve efficiency and compete with larger law firms, CollectionsMasterPro© has grown and morphed into a complete system for managing and operating a community association collections and foreclosures practice, including providing unparalleled client-side access.
For more information, please visit us at http://www.webwaresystemsinc.com or contact Jeffrey Goldstein, Accounts Manager at jgoldstein (at) webwaresystemsinc (dot) com, 1-800-266-0305. And don't forget to ask about our Unconditional 90 Day Money Back Guarantee.
Search for CollectionsMasterPro© on Facebook and Twitter.
###