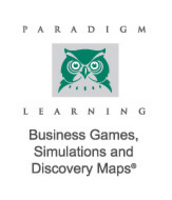 Tampa, FL (Vocus) March 23, 2009
Paradigm Learning, a leader in designing classroom-based business games, simulations and Discovery Maps, announced today that it will be co-presenting with Compass Group North America at the 2009 American Society for Training and Development (ASTD) conference in Washington, D.C., on Sunday, May 31, 2009, from 1:45 to 3 p.m., Room 202 A.
The presentation, titled Beyond Financial Literacy: The Importance of Business Acumen Training for Emerging Leaders, featuring speakers John Dix from the Compass Group and Robb Gomez from Paradigm Learning, will focus on how Compass Group, a leader in the food management and hospitality industry, helped its employees develop business acumen skills.
Compass Group North America recognized that financial literacy training was essential for emerging leaders, but the organization knew that a Finance 101 course focusing solely on terminology and financial statements was not enough. Instead, it realized that developing the business acumen of employees — going beyond financial literacy to a true understanding of what it takes for a business to make money — would be the key to producing real results.
Compass Group then began providing business acumen training to develop its employees' abilities to think like CEOs and saw a significant difference in their understanding of these concepts. Soon employees and managers gained a better appreciation for senior leadership and the tough decisions it often faces and how these decisions impact the overall financial results of the company. This understanding also allowed managers to more effectively communicate leadership decisions to their teams, aligning all employees with strategic decisions and financial goals.
Their presentation will focus on several main objectives, including:

Learning the difference between "financial literacy" and "business acumen" and how to explain the importance of the two terms to your emerging leaders and managers.
Recognizing that with improved understanding of the numbers (financial literacy) and the ways in which actions and decisions impact the numbers (business acumen), managers will be in a better position to contribute to the organization's success.
Identifying the fundamentals of Compass's discovery learning training approach that can easily transferred to any organization.
Paradigm Learning will join Compass Group to talk about business acumen, business games and simulations, and discovery learning as components of Compass's overall training strategy.
ABOUT PARADIGM LEARNING
Paradigm Learning (http://www.ParadigmLearning.com) is a privately held company based in Tampa, Fla. Since 1994, it has worked with more than half of the companies on the Fortune 500 list, creating award-winning business games, business simulations and Discovery Maps® to address company-specific business needs. Its flagship business acumen training program, Zodiak®: The Game of Business Finance and Strategy, has been utilized by more than 1 million people worldwide. Other products address issues such as talent management, employee alignment, leadership accountability, building teams, project management and organizational change.
ABOUT COMPASS GROUP NORTH AMERICA
Compass Group North America is the leader in food management and hospitality. It is an $8.2 billion organization with associates throughout the U.S., Mexico and Canada. Its parent company is U.K.-based Compass Group PLC, a $20.2 billion food service company.
###