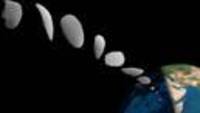 The asteroid now has a face.
Puerto Rico (Vocus) October 7, 2009
For the first time in history, scientists are able to recreate an exact model and trajectory of an asteroid colliding with the Earth. This new information has the potential to open up whole new windows of insight into a field that, until now, has been plagued with conjecture.
Asteroid 2008 TC3 that plummeted to Earth in October of last year was the first ever predicted asteroid impact. Fragmented debris from this cosmic body was collected and analysis begun in attempts to reassemble the asteroid.
This week scientists from around the globe are convening at the American Astronomical Society, Division for Planetary Sciences, in Puerto Rico to discuss the findings of Asteroid 2008 TC3 that fell to Earth nearly a year ago. The chair of this session, SETI Institute astronomer Dr. Peter Jenniskens, remarks "The asteroid now has a face."
Lending a hand to this research were first hand observations from astronomers who witnessed the asteroid's descent to Earth. "We have a gigantic jigsaw puzzle on our hands from which we try to create a picture of the asteroid", continues Jenniskens.
From these puzzle pieces, precise video imaging of the asteroid's collision path has been produced. This knowledge is a significant contribution to the field of astronomy, as never before have scientists been able to exactly depict an asteroid's collision course.
The SETI Institute is a non-profit scientific organization dedicated to research, exploration, and education in the field of astrobiology. This unique team of world class scientists investigates the origin and nature of life on Earth and its possible existence throughout the universe.
For interview opportunities, jpegs, or the video of 2008 TC3 please contact Amelia Meadows at PUBLIC, nyc: amelia (at) publicnewyorkcity (dot) com, 212-431-1470, or visit http://publicnewyorkcity.com.
###