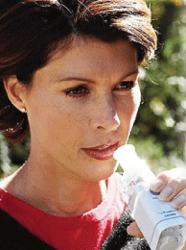 Many kids don't get the full dosage of medication, because they use an inhaler and can't properly coordinate breathing in and compressing the canister
Ashton, MD (PRWEB) November 06, 2012
One of the top triggers of asthma attacks is the common cold. So it makes sense to think that better hand hygiene will mean not only fewer colds, but also fewer asthma attacks. Recently, a clinical trial put this to the test.
The trial took 31 schools and split them into two groups. Half the schools implemented a hand hygiene program, which included alcohol-based hand sanitizer and lessons on good hand hygiene. The other group stuck with just soap and water. Then, after a year the two groups switched, the former going back to just soap and water and the latter starting a hand hygiene program. And the study concluded… nothing.
Though the study found no link between hand sanitizer use and the frequency of asthma attacks, the results were skewed by the infamous Swine Flu. The flu hit in the middle of the study which did two things. First of all, there were simply more colds at the height of the swine flu, whether schools had a hand hygiene program or not. Secondly, when the Swine Flu struck many parents started getting their kids hand sanitizer, meaning that whether or not the children attended a school with a hand hygiene program they were getting the same treatment.
"It's an interesting study, and hopefully one they'll have a chance to repeat," said JustNebulizers' Bryan Mercer, a licensed pharmacist for over 30 years. "But even without the flu outbreak, I wouldn't be surprised to hear the results are inconclusive. There are just too many factors that influence asthma attacks. Sure, colds are a big one. But allergies are another huge one. And some years are gonna be worse for allergies than others, depending on the weather."
According to Mercer, keeping one's home dust and pollen free can be just as important as cold prevention, at least when it comes to asthma attacks. "It's important to dust regularly and take your asthma medication consistently," Mercer said. "Many kids don't get the full dosage of medication, because they use an inhaler and can't properly coordinate breathing in and compressing the canister. We recommend switching to a pediatric nebulizer, or using a spacer along with the inhaler. Some people think that nebulizers are these big, bulky machines but that's no longer the case. Now there's a wide variety of portable, battery operated nebulizers which school aged children can easily slip into their backpacks."
About JustNebulizers.com
JustNebulizers.com provides respiratory products throughout the United States for people of all ages seeking the very best breathing treatments. JustNebulizers.com understands the importance of choosing the right nebulizer equipment. That is why they provide the largest selection of the best nebulizer systems, parts, accessories, and respiratory care products as well as comprehensive and informative details about all of their products. With a wide assortment of respiratory products at the very best prices, their products fit the needs of both young and old persons who need some breathing assistance.