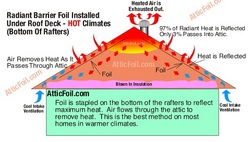 Summer cooling expenses are usually reduced by 10-25%, with some homes going over 25% with effective radiant barrier installation.
Denton, TX (PRWEB) March 15, 2011
Recent new standards published by ASTM International provide a clear blueprint for maximizing the effectiveness of radiant barrier by installing it properly. Radiant barrier insulation is a reflective insulation system that offers a permanent way to reduce energy costs. Radiant barrier insulation reflects radiant heat energy instead of trying to absorb it, thus reducing the amount of heat entering the home, a very large percentage of summer heat gain.
"The two new ASTM standards indicate that proper installation requires an air gap of at least ½ an inch or more," says Ed Fritz, owner of AtticFoil Radiant Barrier Supply. "Since radiant heat is heat that travels across an air gap or vacuum, not having an air space means the heat isn't radiant and a radiant barrier won't work against it."
Properly installed radiant barrier can reflect up to 97% of radiant heat., which is a cost savings for property owners. In addition, says Fritz, "radiant barrier can also increase the appeal of a for-sale home since having it installed is a verifiable energy efficient improvement."
Radiant barrier is usually installed in attics, either stapled to the bottom of the rafters or laid out over existing attic insulation. "Summer cooling expenses are usually reduced by 10-25%,with some homes going over 25% with effective radiant barrier installation," says Fritz. "In addition to reduced energy costs, our customers also report air conditioning works more efficiently with radiant barrier as well." In particular, the all-too-common "blast" of hot air when the air conditioner turns on is reduced.
AtticFoil Radiant Barrier offers a superior tear-proof internally woven scrim material laminated between 2 layers of 99% pure aluminum. It is virtually impossible to tear and requires fewer staples during installation. AtticFoil is also the only manufacturer to produce both a 48" and 60" wide perforated radiant barrier foil.
And, says Fritz, radiant barrier is especially easy and cost effective for do-it-yourselfers. "The material cost for a DIY install is typically $200-400 for an average size home. This is a very low cost, high bang-for-the-buck project for most homeowners."
For more information on how radiant barrier can lower energy costs and make homes more comfortable, visit http://www.radiantbarrierguru.com.
Homeowners who wish to find contractors to install radiant barrier can find a list online at http://www.AtticFoil.com.
The new ASTM standards (ASTM C1743 and ASTM C1744) can be viewed at http://www.astm.org. ASTM International, formerly known as the American Society for Testing and Materials (ASTM), is a globally recognized leader in the development and delivery of international voluntary consensus standards.
###