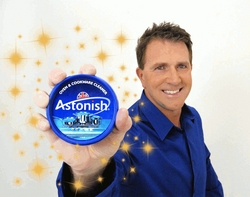 "No retailer has said no to Astonish." "…Maturo Media's DRTV campaign has opened the retail doors."
Philadelphia, PA (PRWEB) March 7, 2011
Maturo Media, LLC of Philadelphia recently founded by former Lenfest Media Group VP Sam Maturo, created the Astonish America DRTV campaign after acquiring the exclusive DRTV rights in April of 2010. " We are extremely pleased to receive a 2011 Telly Award for our first campaign," says Maturo, "…I've received many industry awards in the past, but this one is special." Go to: AstonishAmerica.com
The Telly Awards is the premier award honoring outstanding TV commercials and programs, as well as the finest video and film productions, and web commercials. The Telly Awards annually showcases the best work of the most respected advertising agencies, production companies, television stations, cable operators, and corporate video departments in the world. The Telly Awards is a widely known and highly respected national and international competition and receives over 11,000 entries annually from all 50 states and many foreign countries.
EHI Trading International of Philadelphia has the exclusive rights to distribute Astonish for North America. "No retailer has said no to Astonish." reports Saul Hecht, President & CEO of EHI Trading. "…Maturo Media's DRTV campaign has opened the retail doors." National and regional retailers are stocking Astonish first and second quarter 2011.
EHI Trading International is also featuring Astonish at the National Hardware Show®, May 10 through May 12 at the Las Vegas Convention Center.
On hand at the EHI exhibit will be Barte Shadlow the Astonish DRTV North America spokesperson. The 2011 National Hardware Show® is the place to be for the industry's biggest brands. Stop by the EHI exhibit and be Astonished!
Press Contact:
215.893.3632
###