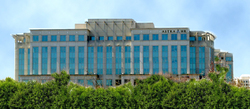 We're committed to making Astra HR an even better place to work for our employees, while also preparing for an important and aggressive growth phase.
Rockville, MD (PRWEB) May 6, 2010
Astra HR, known for their comprehensive HR solutions, recently announced plans to move its corporate headquarters to King Farm in Rockville, Maryland. 
Astra HR, a portfolio company of Corstone Capital, will occupy a prominent building on King Farm Boulevard which is located just two miles from their previous address in Rockville, Maryland. The move will consolidate two Astra HR offices and the local branch of Corstone Capital in the building also known as One Irvington Centre. The new office provides necessary space for the extension of client services and room for further growth as well as new amenities for employees. 
The move comes at a time when the company has seen the effects of their bolstered capabilities. Astra HR, in response to customer requests, decided to augment their product offerings with the addition of professional consulting services, recruiting and benefits brokerage departments. With this notable investment back to their customers, Astra HR began to outgrow their offices. 
Executives at Astra HR and Corstone Capital researched many locations before matching all requisites for their evolving business. The new location provides extensive upgrades to corporate facilities and a progressive floor plan positioning all departments for optimal efficiency. The move will enhance internal and external communication, and the ability to effectively support customers.
"We're committed to making Astra HR an even better place to work for our employees, while also preparing for an important and aggressive growth phase. We really wanted to limit the impact that relocation could have on our clients and our employees. I don't think we could have found a better location for our team. Our new office and enhanced operational efficiencies will help us continue to grow and evolve to keep pace with our client's needs, allowing us to provide exceptional value and superior service along the way," said Michael Irvine, Chief Operating Officer.
Construction of the new space is slated to be complete near the end of April. Astra HR will move in May 28th and open the new location June 1st, at which time Astra HR's new address will be:
ASTRA HR
700 King Farm Boulevard
Suite 300
Rockville, MD 20850
All of Astra HR's phone numbers and fax numbers will remain the same.
About Astra HR
Astra HR is a leading provider of full service HR management solutions that is firmly rooted in their commitment to help clients maximize their people and business performance. Headquartered in Rockville, Maryland, Astra HR has been helping companies to streamline HR administration processes and leverage their HR investment since 1994. Astra HR is a portfolio company of Corstone Capital; a global investment firm with diverse holdings in industry sectors including real estate, distressed debt, aviation, business process outsourcing, human resources, technology and manufacturing.
###