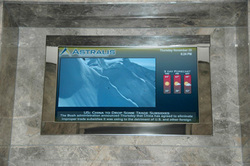 marketing to 'measurable' marketing is part and parcel of the shift from network TV to digital signage and mobile media messaging
(PRWEB) December 17, 2007
Birmingham, AL -- Colonial Properties Trust (NYSE ticker CLP) recently signed a five-year contract with Astralis Telemedia; the contract allows Astralis to expand its Digital Signage network in 2008 to Class A office buildings in the cities of Atlanta, Mobile, Huntsville, Orlando, Tampa, Ft. Lauderdale, Jacksonville, Rockville, Charlotte, Memphis, Dallas, Houston and Austin, among other locations.
A digital signage company in Alabama and one of the fastest growing digital media companies in the Southeast, Astralis provides advertisers a unique opportunity to get their message in front of potential consumers at the prime time – while out of the home and in niche markets.
Mobile-based Astralis Telemedia is interested in selling to advertisers and delivering their message to a captive audience of educated, affluent consumers when they are at work, on the move and ready to act. Advertisements are shown on flat-screened LCD and plasma displays in Class A office buildings during the prime time and while consumers are in "the spending" mode. Advertisers see this opportunity as a key factor in triggering powerful call-to-action and brand reinforcement within their potential consumer-base.
"Astralis allows advertisers precise marketing, communication practices and performance measures that meet the new realties of today's borderless and diverse consumer market, which will necessitate a major shift in how and where marketers communicate with consumers. The shift from "mass" marketing to 'measurable' marketing is part and parcel of the shift from network TV to digital signage and mobile media messaging," says Philip White, Founder. "This gives companies a chance to promote their products and services in an extremely effective manner, which is something we think helps to target consumers that are in the spending mode and thus produce a greater bottom line for the advertiser."
White adds that thanks to Tivo and other advances in television, consumers can now skip commercials. Not so with the Astralis network – there is no skipping. "We catch consumers when they're on the go and ready to buy."
The Astralis Digital Signage Network enhances an environment and defines a new promotional medium, combining the impact of print, the pull of television and the speed, flexibility and measurability of the Internet. In other words, an advertisers dream come true.
With high definition advertisements interspersed between news streams, the Astralis experience gives targeted consumers a way to view targeted local ads, without the filler of national ads geared toward a broad buying base.
Astralis has high definition monitors set up in a number of locations throughout Alabama in Birmingham, Montgomery and Mobile. In some locations, the televisions are set up in an Oasis-area setting, offering a comfortable seating and viewing area for news and advertisements. Additionally, these areas are equipped with WiFi to further accommodate a comfortable environment.
For more information, please contact Philip White at 251.445.4500 or visit http://www.astralistelemedia.com.
Media Contact:
Ashley Fulmer
205.503.5927
ashley @ styleadvertising.com
# # #