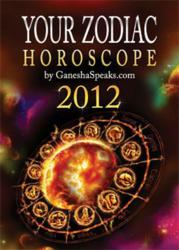 Ahmedabad, India (PRWEB) November 10, 2011
Actors Brad Pitt and Angelina Jolie, dubbed 'Brangelina' by the media, are in perpetual limelight for their films, or their personal lives and the several charitable organizations represented and aided by them. The name Paris Hilton, however, is synonymous with flings and controversies – and of course a hefty bank balance. Named as the sexiest man alive by People magazine in 2003 and 2009, actor and musician Johnny Depp has a tremendous fan following, and is one of the biggest money-spinners in Hollywood. What 2012 spells for each of them is mentioned in the GaneshaSpeaks.com's just-released ebook "YOUR ZODIAC HOROSCOPE 2012".
Team GaneshaSpeaks.com points out that Libra is the Ascendant of Brad Pitt and Angelina's mid-point composite horoscope. This indicates that the couple needs to learn the art of balancing their lifestyle. Saturn closer to the cusp of 8th House in their composite chart indicates a disturbed sexual life.
For Johnny Depp though, Jupiter's transit through the 10th and 11th House will prove to be quite favorable. In fact he can look forward to a prestigious award during the year ahead. The second half of 2012 is also going to be fabulous for his career. He must however be careful of legal issues and disturbances in his marriage.
Paris Hilton's Venus return chart indicates emotional turmoil for her in 2012. The reasons could range from disturbed relationships to unfavorable stars influencing her career and finances. A split in her ongoing relationship is also foreseen. Health issues may also trouble her during 2012.
Announcing the launch of the eBooks, Hemang Arunbhai Pandit, MD & CEO said, "GaneshaSpeaks.com is the world's first horoscopes portal to launch its ebook on 2012 zodiac forecasts. It is available on Amazon Kindle, android/iOS and smashwords.com while print-on-demand is available on GaneshaSpeaks.com. Besides forecasts for career, finance, love, etc. for all zodiac signs in 2012, the ebook also includes forecasts for major countries like USA, UK, India, China, Russia, Japan, Pakistan and celebrities in sports, politics, business and entertainment."
About GaneshaSpeaks.com
Officially proclaimed as successors to the astrological legacy of Bejan Daruwalla, GaneshaSpeaks.com is #1 in India and #3 Astrology portal globally. Since 2003 it has served a million+ clients with accurate guidance and trustworthy services. It owns the world's first horoscopes radio - Astrology.fm which attracts 1 million monthly listeners.
###