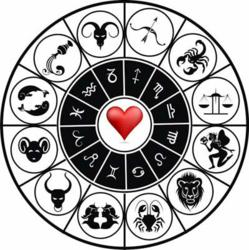 The success or failure of this relationship may hinge on whether or not they can meet on an emotional level, especially given the extra pressures of living their lives in the public eye.
Los Angelas, CA (PRWEB) December 31, 2011
Many are enthralled with the young Hollywood relationship between Justin Beiber and Selena Gomez. LoveHoroscope.me takes a look at their joint horoscope to see if they can last in 2012.
Justin Bieber was born on 1st March and Selena Gomez on 22nd July making this a potential love match between a Pisces Man and a Leo Woman.
Both signs are extremely romantic at heart and they will of course have had a terrific time wining and dining at the start of their romance. There are potential dangers for this relationship as Selena, being a Leo, is likely to thrive more on the social aspects than Justin who may prefer a little more private time. However, they are both used to being in the limelight and the likelihood is that they will both have been striving for precious private time together.
The Leo woman is naturally direct and generous with their affections. She is also very cheerful and bubbly most of the time and this makes her great fun to be around. If Selena is a typical Leo woman she will be extremely proud and compassionate with a very forgiving nature. If Justin is able to consistently express his love and make her feel safe and secure in his company then they have a chance for the relationship to develop. Justin, as a Pisces man, will still value his personal freedom very highly and will remain upbeat as long as he is allowed to be himself. However, should he feel that he is being restrained he could become uneasy and restless.
A typical Leo woman needs to be the center of attention and Justin will have to be careful that he does not attempt to overshadow Selena, both publicly and privately. As with all relationships, trust is vital and once achieved it can open up all sorts of possibilities for them. Being in the spotlight will make it difficult, but Justin will have to go out of his way to show her that she is special and keep the magic alive. If anyone is in a position to do so it is Justin!
Based off of traditional Astrology, as a Pisces man, Justin should possess the natural charm required to calm the more fiery temperament of the Leo woman. The Pisces is usually a good listener and knows when to offer support and understanding to their partner. The Leo woman prefers to lead in a relationship and this is the biggest problem they are likely to face. With Serena being two years older than Justin, this may have quickly been established. The Pisces are usually more passive and will allow the Leo to adopt the leading role but, perhaps more so in a celebrity coupling, he may ultimately grow to resent it. At some point there is a high risk of a clash of egos. Justin will have several skills to help him including his quick wit, intellect and natural charisma. He will also benefit from the surprising inner strength that Serena is likely to possess. Neither will lack in confidence or self-belief and, should they develop a passion and understanding of each other's strengths and weaknesses they have the potential to make a truly formidable love match.
Both signs are romantic by nature and can be extremely passionate so there are excellent prospects for their love life. It is likely that Serena, as the Leo, will be the more feisty of the two and Justin may need to "man up" a little to deal with her more dominant side. The Pisces man is prone to sulk a little when they feel a bit downtrodden and he will need to learn how to express himself strongly within the relationship. For this relationship to succeed in the long term, both are going to have to make allowances. If serious problems do occur it is difficult to see how these two are going to resolve them at their tender age. But, while things are going well then these two will certainly make the most of it. The horoscope compatibility shows an exciting relationship between these two signs.
Both enjoy a vivid imagination and a natural sense of fun. Whilst enjoying their celebrity status they may be shielded from many of the more mundane aspects of a relationship, for the time being at least. The Leo's constant need for approval may ultimately prove draining for the Pisces. In turn, the Leo may struggle to deal with the more emotional Pisces and their need to retain a significant amount of freedom within the relationship.
The best prospect for this couple lies in their sense of fun and they have clearly been enjoying a very exciting time together. Each possesses qualities that appear slightly magical to the other but the test will be once the initial attraction starts to wane. If they make efforts to fully understand their natural differences there is a chance that this pairing could last but it is not guaranteed. The success or failure of this relationship may hinge on whether or not they can meet on an emotional level, especially given the extra pressures of living their lives in the public eye.
Visit LoveHoroscope.me for more Astrology Information, including widgets, badges, and a new public Forum!
###