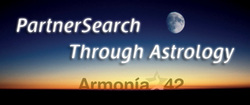 (PRWEB) August 6, 2008
With Armonia42's astrological matching system of western, as well as Chinese astrology, Armonia42 is able to find people a partner who is compatible with a person in many ways. Armonia42 can help a person identify those who have a very similar outlook on life, kindred spirits, parallel characteristics and personalities, and who share the same likes and dislikes.
To start the astrological matching process with Armonia42, registration into their database is completely free, and a person can sign up within minutes at http://www.armonia42.com/registro.asp. Armonia42 even offer a free 30 day trial period right now.
Once a member of Armonía42, a member is authorized to receive horoscope compatibility information about an unlimited number of potential partners throughout the duration of the selected astrology matchmaking plan. Armonia42's membership rates are amongst the most competitive you will find, as they work purely via the web to keep costs down.
Armonia42 thoroughly believe that astrological matching should become an integral part of finding love, especially now that statistics are showing that one in three marriages are ending in divorce. Armonia42 feel it is important to choose a partner not just on looks, but on the main characteristic, which is compatibility. While physical attraction may draw us to a potential person, psychologists have discovered that likeability is far more important for sustaining a relationship. We believe that passion based on love found through compatibility is the key to lasting partnerships.
Visit Armonia42 today, to find a new way of finding love.
search engine marketing by Web Efforts
###