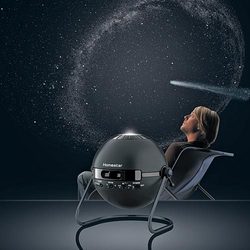 Tonawanda, NY (PRWEB) August 17, 2008
Enjoy an amazing starry night view in the comfort of your own home with the Homestar Optical Projection System. This new pro series planetarium lets you watch as a crystal-clear, rotating field of 10,000 stars is projected on your ceiling or wall - with random streaking comets. Astronomical accuracy and LED technology combine to create an experience that is both entertaining and educational.
The perfect gift for any aspiring astronomer, the Homestar Optical Projection System features a futuristic sphere design that looks cool in any room. An ultra-bright white LED light source and high quality lens system with adjustable focus produce stunning visuals with brilliant clarity. Two interchangeable hi-res image disks are provided - one of the star field with constellations and one without - so you can choose the sky you want to see. Extremely easy to use, the system includes an automatic timer, adjustable projection angles, and modes of motorized image rotation and random streaking comets. So you can take the starry sky with you anywhere, an AC adapter and external portable battery pack are also provided.
Released just in time for the prime star-gazing season, the Homestar Optical Projection System is sure to please astronomy fans young and old. Edmund Scientifics is proud to offer this incredible at-home planetarium as part of its full line of astronomy related products. Encouraging exploration of the night sky has long been a part of Edmund Scientific's history and focus.
See the Homestar Optical Projection System Now!
Serving curious minds for over 60 years, Edmund Scientific has been at the forefront of cool scientific toys. During 1942, Edmund Scientifics founder, Norman W. Edmund, an amateur photographer, turned to an order-by-mail advertisement to find a specific lens. Difficulty in finding the lens prompted him to place his own ad offering specialty lenses in a photography magazine. The lenses sold out almost immediately and thus, the Edmund Salvage Company was born. Later Edmund grew beyond being an optics company to one that offered exciting science products for a wide consumer base. Well-known through catalog and online presence, Edmund is now a leader in the latest technology and science related tools and toys.
The brightest minds think Edmund. Edmund Scientifics' headquarters is located at 60 Pearce Avenue in Tonawanda, New York. For any questions, interviews, or media requests, please contact Tim Burns at 716-874-6020 or Noël France Vaché at 585-321-9458. For more information on Edmund Scientifics, please visit http://www.scientificsonline.com.
Company: Edmund Scientific
Contact: Tim Burns
Phone: 716-874-6020
# # #