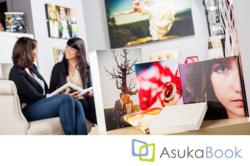 Bend, OR (PRWEB) June 26, 2012
AsukaBook USA has recently launched a new look for their brand. After hiring a new US Division Manager and bringing on a new Creative Director in 2011, the AsukaBook team decided it was time for a fresh, new look. The rebrand is a reflection of the diversifying of the photography industry as a whole.
"We recognize that, just like the rest of the world, the photography industry is becoming more globalized." says Kathryn Osborne, US Division Manager. "As the photography industry has evolved in recent years, we knew we needed to change the look and feel of our brand to match the demands and ever-changing style preferences of the market."
The rebrand was spearheaded by Ryan Crotty, Creative Director of the AsukaBook USA office and will be used internationally in AsukaBook offices. For a look at the new feel of the AsukaBook brand, visit http://www.asukabook.com.
About AsukaBook USA:
AsukaBook USA, located in Bend, Oregon, is the United States representative of Asukanet Co., Ltd. Asukanet Co., Ltd. started manufacturing coffee table books in Japan in 1995 and continues to print and bind books for clients worldwide. Asukanet Co., Ltd. asked Kubota Photo-Design, Inc. and Kevin Kubota to be its representative in the United States in 2005. AsukaBook USA launched in March of that year, and business has been booming ever since! Kubota Photo-Design, Inc. is also the owner of Kubota Image Tools and Red Boot Design™.
One of the first companies to offer coffee table style albums for photographers in the United States, AsukaBook USA has been widely endorsed by professional photographers and graphic designers because of the exceptional quality of their products and service. The variety and versatility of AsukaBook USA albums are exceedingly popular with clients purchasing packages from their photographers.
Take a moment to discover the exceptional features of AsukaBook USA's Zen Layflat Book®, offering beautiful, seamless displays of photos; the DVD Presentation Book, with a classically built case and fully removable, designable hard-cover book that includes a DVD placeholder; and their NeoClassic Book®, which puts a contemporary spin on the classic flush-mount album by adding board-like pages, giving an artful experience to the viewer.