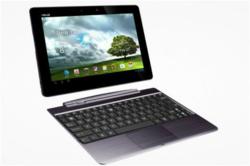 Denver, Colorado (PRWEB) January 11, 2013
The tablet market has been getting a lot of attention lately as the number of brands and products available has boomed. For buyers, a tablet is an appealing IT investment that pertains to personal entertainment purposes as well as professional and business functions.
Find My Price reviewed the deals available and found the most cost-effective deals for Asus Transformer Pad Infinity TF700, a 10.1-inch tablet that runs on a NVIDIA Tegra 3.0 1.6 GHz processor. Asus Transformer Pad Infinity is priced near the Samsung Note 10.1 and Apple iPad level, and it even ranks on PC Mag's 10 best tablets list for 2012.
The Holiday shopping season was a good time to buy a tablet at an affordable price, as online retailers slashed prices for most of the product in stock. The holiday discount season continues, post-Christmas, with more appealing price tags for these particular electronics.
According to the company the 10-inch, 32GB, Wi-Fi Asus Transformer Pad Infinity starts selling at around $470 on Amazon and delivers tech specs similar to Kindle Fire HD 8.9", although it is heavier and bigger at 10.35 by 7.11 by 0.33 inches.
The 10.1-inch scratch resistant Corning Gorilla Glass 2 screen on this particular tablet offers a 1920 by 1200 pixel resolution that performs consistently thanks to the speedy components and is able to playback HD video at 1080p. Asus also packed a Super IPS+ technology that makes the display functional for outdoor use.
Asus Transformer Pad Infinity TF700 delivers a battery life of 14 hours (mobile computing), 7 hours and 17 minutes (video playback, maximum screen brightness and Wi-Fi on) and 12 hours with the keyboard dock.
http://www.FindMyPrice.net is a leading price comparison platform that strives to give buyers the lowest prices available for the products they are interested in purchasing. Because tablets are some of the most desirable electronics in the market at the moment, Find My Price has reviewed premium and low-cost tablets as well as popular and unknown brands.
The reviews on the website will give buyers information they are commonly interested in: OS, brand, battery life, app potential, screen quality, gaming performance, Netflix, Facebook and other entertainment apps, internet speed, audio and HD playback quality, IR features, in-built memory and so on.
Throughout the holiday season, the team at Find My Price analyzed deals available for electronics with online retailers. The website has browsed every deal and product available in order to give buyers accurate and comprehensive reviews on electronics ranging from tablets to ultrabooks, DVRs, TVs, Mp3 players, headphones and the like.