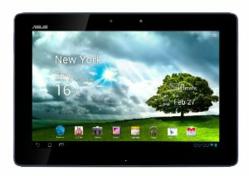 (PRWEB) November 24, 2012
Asus is an internationally recognized company manufacturing a variety of computer devices and accessories. The company also designs and manufactures tablet computers. Retailers offer special prices and discounts for products including Asus with its range of tablets.
Asus tablets with black friday, cyber monday, and christmas deals are already available at hottydeals.com/asus-tablets.
One of the most popular Asus products offered with black friday deals is the Asus TF700T-B1-GR 10.1-inch tablet. Here are some of its features:

Android 4.0 Ice Cream Sandwich
adobe flash support
a quad-core processor
IPS capacitive multi-touchscreen
and thin design
1gm DDR3 Ram
10.1 inch Full HD (1920 x 1200p) screen display
Asus tablets are good christmas gift for people that continuously need quality portable computing.
Here's a list of some ASUS tablets for black friday, cyber monday, and christmas:
1. Transformer TF700T
This is a sleek Android tablet featuring quad-core processor and Full HD screen resolution. It runs on Android 4.0 operating system, equipped with 1gm DDR3 Ram, and has a docking station with QWERTY keyboard that is optional.
2. Transformer TF300T
This is a GPS-enabled Android tablet with a maximum battery life up to 15 hours for continuous use. Other features include 10.1-inch WXGA multi-touch screen (1280 x 800p), quad-core processor, 32gb hard drive, 8MP rear camera, HDMI port, and more.
3. Transformer TF300T Gold Edition
This tablet is simply another version of the previously mentioned model. The only major difference is the hard drive capacity, which is 16gb.
4. VivoTab
Running on Windows RT operating system, VivoTab comes with Nvidia Tegra 3 1.3GHz quad-core processor. It also supports 32 gb hard drive or 64gb Flash.
Black friday, cyber monday, and christmas deals offer special prices and discounts for Asus tablets. On such big shopping days, other items are also available at lower prices. For further information about tablets and holiday deals visit http://hottydeals.com/asus-tablets.