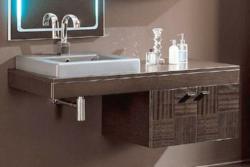 One of the easiest ways to get an asymmetrical look in bathroom design is with wall mounted bathroom vanities.
(PRWEB) April 10, 2013
HomeThangs.com – the Home Improvement Super Store has made their goal to deliver the right product to the consumer. With that in mind, shopping and home design tips, as well as special product selections are being introduced.
It's a well-known fact that symmetry is pleasing to the eye. Perfectly symmetrical faces are widely considered to be the most attractive, and everything from symmetrical architecture, furniture layout, and even photo placement create a sense of balance that people generally find appealing and even soothing. But modern design is all about smashing expectations and stepping outside the norm, catching the eye with something that's simple but unexpected. Foregoing symmetry is one of the simplest ways to do that, and in terms of a modern bathroom design, that means opting for asymmetrical bathroom vanities. HomeThangs.com introduced a quick guide on how to incorporate asymmetrical bathroom vanities into the décor, and offered product suggestions to help the consumers find the right one. Among the recommended brands are: Virtu USA, Legion Furniture, Iotti, Vigo, and more.
In their guide, HomeThangs shows how to achieve visual interest in bathroom via asymmetry. If choosing any bathroom vanity at random, chances are good that it will be perfectly or nearly perfectly symmetrical. The wider the vanity the truer this tends to be: big, modular double vanities often come in three parts that form a perfect mirrored image when placed together. But even small vanities have a general sameness to them, with the occasional exception of having drawers stuck onto one side. But that isn't the kind of asymmetry needed; rather, a design that plays with cutouts and blank spaces to visually alter the "standard" look of the bathroom vanity.
Enriched with examples and interior illustrations, the guide shows why an asymmetrical vanity is a good choice for a modern bathroom. The very fact that symmetry is so common makes anything asymmetrical stand out, and not necessarily in a bad way.
One of the easiest ways to get an asymmetrical look is actually with wall mounted bathroom vanities. Unlike more traditional vanities which have to at least be even enough to sit flat on the ground, wall mounted vanities have the opportunity to assume just about any shape.
In fact, wall mounted vanities offer the simplest, easiest form of asymmetrical bathroom vanities – a simple square vanity with a rectangular shelf extending to one side. These come in two basic types: ones where the square drawer is immediately under the sink and ones where the drawer is offset to one side. The latter maximizes the amount of usable space in the drawer while leaving the (often decorative) plumbing exposed, but either way this is an option that's both visually arresting and pretty good for storage. In a small modern or urban loft style bathroom, these asymmetrical bathroom vanities offer ample counter space and unobstructed storage space in a relatively small footprint.
In order to find more ideas and tips on the matter, read the full version of the Guide to Incorporating Asymmetrical Bathroom Vanities For A Stylish Modern Bathroom.
HomeThangs.com is not only a home improvement superstore, it also provides expert design tips and a comprehensive shopping guide, taking the ideas from professional interior designers, and offering tips to the consumers on how to pick the products to best suit their needs.