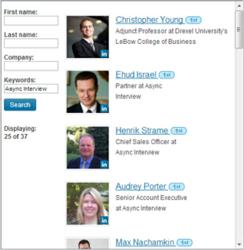 Philadelphia, PA (PRWEB) June 27, 2013
Async Interview, a leading video interview management platform provider, has added LinkedIn profile access while viewing a candidate's interview.
Switching back-and-forth from various systems is a great inconvenience that slows down the process of evaluating candidates. With the integration of LinkedIn profiles, it removes the time-consuming toggling and search to find a candidate's LinkedIn and then view their interview.
"Integrating LinkedIn is another step in the right direction of linking innovative technologies in our recruitment process," said Viola Crawford, Recruiter at the Kendal Corporation. "Viewing the candidate's interviews while looking through their resume and LinkedIn profile allows us to get to know the candidates better."
With Async's Oracle Taleo integration announcement and now the incorporation of LinkedIn profiles, they are quickly becoming connected with the top HR technologies that their clients use in the recruitment process. "We want to help our clients by integrating various solutions into one and incorporating LinkedIn is another step in that direction, said Chris Young, CEO of Async Interview. "Clients were already browsing candidate LinkedIn profiles and now they can do that within Async while viewing a candidate's interview."
About Async Interview
Async Interview is a technology and service company meeting the needs of corporate and outsourced recruitment professionals through its video interviewing technology. Its suite of video interviewing tools are built to address a process bogged down in inefficiencies, rising costs and laborious procedures. The cloud-based, real-time system gives recruiters, HR professionals and hiring managers the ability to interview, evaluate, collaborate and hire the emerging workforce. http://www.asyncinterview.com