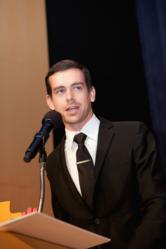 He has a passion to help disadvantaged youth and knows exactly how scary—yet exciting—it is for these youth entrepreneurs to launch their businesses
Redwood City, CA (Vocus/PRWEB) February 28, 2011
BUILD, the nation's largest entrepreneurship-focused college access program, announces that Jack Dorsey, creator and co-founder of Twitter, and now CEO of Square, has joined BUILD's National Board of Directors.
Suzanne McKechnie Klahr, Founder and CEO of BUILD, remarked: "We are ecstatic to have an entrepreneurial leader like Jack join our National Board. He has a passion to help disadvantaged youth and knows exactly how scary—yet exciting—it is for these youth entrepreneurs to launch their businesses. His strategic focus, which has led to success in so many industries, will be invaluable to BUILD for our next stage of growth."
Jack Dorsey's successful start-up, Twitter, has over 200 million registered accounts and gives users immediacy and social connection through real-time messaging. Similarly, Square enables anyone to take a credit card payment on their phone or iPad. In fact, BUILD used Square at its recent fundraising gala which enabled BUILD to receive 99 donations that night ranging from $10 to $12,000. BUILD is Jack Dorsey's first non-profit board membership.
About BUILD:
Founded in 1999, BUILD's mission is to use entrepreneurship to excite and propel disengaged, low-income students through high school to college success. We believe that the power of student ideas in action drives youth to reach their fullest potential in school and beyond. Our four-year high school program offers a unique blend of entrepreneurship, academics, and personal support that attracts and motivates many students who are otherwise at high risk of failing classes and dropping out of high school.
Our students develop their own business ideas, write business plans, pitch to funders, and launch real businesses. This real-world business experience makes school relevant and motivates them to succeed. To make them college-eligible, students also receive individualized academic support and advising for their school-work and college planning. BUILD currently serves 700 high school students at programs located in East Palo Alto and Oakland, CA; Washington, DC; and a new site to be launched in Boston, MA.
For more information see: http://www.build.org.
# # #