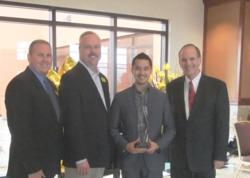 We just go out there and bring what's expected for clients.
Minneapolis, MN (PRWEB) April 30, 2013
Minneapolis born and raised Rory Theng, a Realtor at WEICHERT, REALTORS® - Premier in Andover, Minnesota, was the winner of Weichert Real Estate Affiliates, Inc.'s "Pinnacle Award," as the franchise organization's top agent for 2012. Weichert Affiliates President Martin Rueter traveled from headquarters in New Jersey to Minneapolis to present the trophy to Theng in person. "This is an amazing accomplishment for such a young and relatively new agent," Rueter said. "At only age 29, Rory sets a new standard for people just entering the field, and we are proud that that he chose to rise to the top as a member of the Weichert family."
BACKGROUNDER:
Theng joined the Weichert® agency in Andover less than three years ago. He credits his quick rise to the topmost spot on the national agent's roster to "having a dedicated team to work with." Theng works closely with another under-30 Weichert® agent named Jeremy Chubb, likewise a high producer, along with two assistants and an administrative support team. In simple language, he says, "we just go out there and bring what's expected for clients."
WEICHERT, REALTORS® - Premier owners David Noe and Rod Schimmel reported their "extreme regard for Rory, both personally and professionally," said Noe. "Professionally, he has done a great job identifying how to best meet his clients' needs in multiple customer groups--traditional buyers and sellers, home investors, and large institutions; his ability to understand what his clients want and need and how he can deliver on those has helped make him successful.
"There is, however, no substitute for hard work, and that's been a cornerstone with Rory from day one with Weichert," Noe added. "He's a great guy and deserves the fruits of his labor; we are VERY proud of him."
Theng entered real estate following a brief career in the pharmaceutical business that ended with company layoffs. "It was the best thing that ever happened to me," he said. "I got my real estate license and went to work to decide what kind of Realtor I wanted to be." Armed with a bachelor's degree in economics from the University of Minnesota, he "dug in" and focused on HUD and Fannie Mae business.
Following Rueter's meeting to congratulate Theng, an event was held honoring all 2012 award winners from throughout the Weichert® Minnesota, Northern Wisconsin and Northwest Michigan Broker Council. In addition to taking a bow as the topmost associate in the national franchise, Theng was recognized as the Council's Top Listing Associate in GCI, Top Listing Associate in Units and Top Overall Associate for the year.
WREA's Pinnacle Award winning agent can be reached at WEICHERT, REALTORS® - Premier in Andover, telephone 763-754-1400.