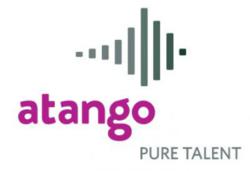 St. Louis, MO (PRWEB) October 30, 2012
Atango, the talent acquisition solution that helps midsize companies find better talent and make better hires, launched with a bang at the recent HR Tech convention in Chicago.
HR Tech is the most heavily attended trade show for human resources professionals and is often considered the most influential convention in the industry. Atango launched at HR Tech with an eye-catching booth display, a hot-ticket after-hours party that it co-hosted and even a theme song penned for the new company.
"The Atango brand is unique by design," said company CEO Brian Hopcraft. "The name, the logo and the color palette are all intended to announce that we are different from our competitors. And indeed we are."
Atango showed off a persona at HR Tech that immediately set it apart from the competition and further highlighted the uniqueness of its product.
The name Atango evokes images of dancing and flowing movement — not characteristics normally associated with HR technology vendors or their products. The color palette of bright fuchsia and chartreuse yellow is similarly vibrant and presents a bold contrast to the subdued blues and grays of Atango's competitors.
The youthful and exciting colors also play into the vibrancy and light of the Atango brand. The logo, an artistic representation of a sound wave, mimics the Atango experience.
Just as a sound wave is a simple visual representation of a complex idea, Atango takes the complicated task of acquiring and managing talent and simplifies it. Atango is easier to use than the "big, clunky" sourcing and recruiting solutions that only large enterprise organizations could afford or manage to get the most usability from, Hopcraft said.
Atango is tailor-made for the challenging hiring processes of small and midsize businesses. Another differentiator is that Atango understands and straddles both the world of the HR professional and that of sourcing and recruiting experts. Atango is uniquely designed to work for either user.
"The staffing and recruiting industry and HR share many similarities, but they also have just as many differences," Hopcraft said. "Having customers in both markets helped us create a product that met the needs of HR. The customer and market feedback has been very satisfying. It means we've done something right."
The Atango booth at HR Tech was not only colorful and bold, it featured singers performing improvised songs based on suggestions from booth visitors.
"HR professionals that walk the show floor at HR Tech are probably lulled to sleep by walking past an endless string of dull booths, each one of which looks nearly identical to the other," Hopcraft said. "Ours was certainly different, and I think everyone had a lot of fun. Our intent was to pull back the curtain and let the world hear the Atango song — and the world certainly did!"
Atango's vision is to connect people with opportunities. "The launch of this brand," Hopcraft said, "is one step in a long journey down that path."
About Atango
People are the music that moves your business. Making the best music requires finding the right talent. But recruiting, auditioning and hiring that talent is hard to do with software that offers an endless noise of features and price points. You need something simple. Something as easy as "do-re-mi." Atango is a talent acquisition software solution that streamlines your recruiting and hiring process. It's easy to use, tuned for smaller businesses, and the customer service is always a smile away. Isn't it time your company had the best candidates and new hires without the effort or hassle? We think so. Put the right band together. Pull back the curtain. And let the world hear your song. Atango is headquartered in St. Louis, Mo., and is online at http://www.atango.com.
This press release was distributed through PR Web by Human Resources Marketer (HR Marketer: http://www.HRmarketer.com) on behalf of the company listed above.