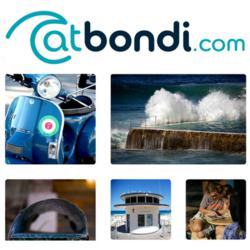 Even those who can't visit Bondi Beach in person can head to atbondi.com to explore, engage and enjoy our enviable coastal community.
Bondi Beach, Sydney, NSW, Australia (PRWEB) December 01, 2011
Showcasing Australia's famed surf lifestyle, atbondi.com features a wealth of information, imagery and inspiration for the global tourism market.
Director Andy Solo said the new destination website was created from market demand and aims to both strengthen the local community and promote Bondi Beach to domestic and international audiences.
"Anybody researching Bondi Beach will have noticed a surprising lack of online presence for such a world-renowned travel destination. Our new site atbondi.com celebrates our gorgeous beach, vibrant village and allows visitors to explore our unique coastal lifestyle."
"It also forms part of a growing trend in tourism where people researching travel destinations are seeking authenticity. The travel market is increasingly savvy. They want independent information and reviews from locals and people who have already visited a destination. atbondi.com provides that and more", said Ms Solo.
While the site is independently owned and operated, it is aligned with the State Government's focus of "positioning NSW as Australia's premier surfing and coastal holiday destination" to achieve the long term goal in strengthening the appeal of Sydney and NSW to young holidaymakers, as stated recently by Destination NSW CEO Sandra Chipchase.
Ms Solo agrees. "The Australian tourism industry is experiencing a new surge of optimism and activity and I think our unique surf coast destinations can play a vital role in attracting visitors. It's really exciting to be a part of that by showcasing one of our most beloved and iconic locations, Bondi Beach, particularly as we kick off the summer season."
The new Bondi Beach website offers comprehensive practical information, tips from locals and top 10 reviews. It highlights local sights, tours, activities, art, culture, news and events and features a gallery of professional imagery.
Ms Solo noted there are about 500 businesses in Bondi Beach and the atbondi.com Directory provides details for them all - from spa resorts to surf lessons to immigration services.
"There's a wonderful community feel to Bondi and I really encourage people to rinse off after a swim and wander up through town to one of the many cafes, fashion boutiques, galleries or gift stores. We're famous for our beautiful beach but it's our warm and welcoming, laid-back locals and lifestyle that really draws people in.
"Even those who can't visit Bondi Beach in person can head to atbondi.com to explore, engage and enjoy our enviable coastal community." Ms Solo said.
###