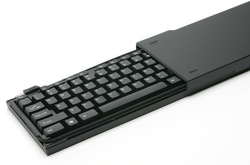 Santa Ana, Calif. (PRWEB) December 3, 2008
Atek, Inc., a manufacturer of computer accessories, announced today the arrival of its innovative desktop-like OnBoard Travel Keyboard for mobile professionals.
Using a different approach from fold-up, roll-up, and miniature portable keyboards, Atek designed its patented OnBoard Travel Keyboard with a solid structure, full-size keys, and a dedicated numeric area.
According to Dan Rothman, president of Atek, "Most people don't like laptop computer keyboards. They say the keys feel cramped, which not only causes discomfort but also decreases work productivity because you either have to slow down to make fewer typing errors or you have to spend a lot of time correcting mistakes. As if that's not bad enough, the unfamiliar position of some keys and the lack of a separate numeric area are further irritations. For people on business trips or working in the field, this is a real drain on efficiency."
The critical insight that guided Atek's design is that laptop computer keyboards are hard to use for reasons different from what most people think. The company's research led to the revelation that the cramped feeling on laptop keyboards is a sensory misperception. "Surprisingly, laptop computer keyboards in reality are not that cramped. The real reason for poor typing performance relates to the shape and height of the keys as well as the distance they move relative to one another," explained Mr. Rothman. "Your fingers don't easily find the center of flatter laptop keys. Those off-center fingers in turn are more likely to take adjacent keys along for the ride accidentally because, unlike desktop keyboards, the travel of shallower laptop keys takes them past the widest part at the bottom of adjacent keys."
Based on this determination, Atek knew its portable keyboard would need to be built with desktop size membrane keys, but it still faced the considerable challenge of designing a frame with travel-friendly sizing and construction.
The company found it could achieve minimal sizing by eliminating five keys that are not frequently used on a standard 104-key desktop keyboard, trimming away all unnecessary space surrounding the keys, and not dividing the keyboard into highly separated alphabetic, numeric, navigation, and function sections.
The novel result is a keyboard that achieves a 14-3/4 inch width - small enough to fit in most laptop computer cases and shoulder bags. It also features a clever sliding protective cover that doubles as a tilt stand as well as a simple cord management system with internal winding posts and a connector nesting area.
Mr. Rothman explained that Atek's success in creating a very different kind of portable keyboard is the result of the company's customer-centric orientation. "Our brand tagline 'Designed with you in mind' guides us in product development, and that meant we not only needed to provide a desktop-like typing experience on a stable frame but also needed to design for the rigors and requirements of mobile computing by making the keyboard durable as well as light, slim, and easy to pack and unpack. I think we came up with a nifty way of achieving all of that, and to further enhance the user-friendliness of the product we added an inflatable palm rest."
The OnBoard Travel Keyboard works with Windows XP and Vista and Mac OS X. It is available directly from Atek.com, 1-888-889-9990) as well as from various retail and online stores. Suggested retail price is $29.95.
About Atek, Inc.
Atek, Inc., a privately-held company based in Santa Ana, California, manufactures computer accessories and other technology products under the Atek brand.
###