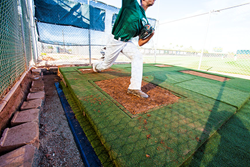 "The RFP Mound helps you practice the right way, so you can perform your best when it counts," said Francona, "It's the only portable mound that simulates the game experience."
Mesa, AZ (PRWEB) December 23, 2015
Sports Science Technology Company Athalonz has announced that Cleveland Indians manager Terry Francona will become the official spokesperson for RFP Mounds. The deal was announced earlier this month.
"Athalonz is excited to partner with a baseball legend that embodies the passion and energy that we bring to the sports science industry," said Nathan Perry, Vice President of Sales and Marketing, "Terry provides strategic consultation to our product development team to ensure that Athalonz continues to develop baseball products that allow the player to perform safely at their highest level."
RFP Mounds are innovative regulation-sized portable pitching mounds that use Hilltopper mound clay, so players can wear cleats during practice. Designed to MLB specifications, RFP Mounds are the most advanced and realistic portable pitching mounds available today, and the only portable mound that simulate a true game experience.
"The RFP Mound helps you practice the right way, so you can perform your best when it counts," said Francona, "It's the only portable mound that simulates the game experience."
Athalonz hopes that Terry "Tito" Francona, the current manager of the Cleveland Indians, will bring his sense of passion and purpose to their campaign. Hired to the Indians in 2013, Francona lead his team to win 92 games. With over 30 years of professional baseball experience, Francona is an outstanding voice for sports technology, and a trusted name in baseball.
In addition to his role as spokesperson for RFP Mounds, Terry will be a key contributor in the marketing of Athalonz products to both amateur and professional players. Future plans include appearances at various events; facilitating player testing of new products; and advising on new product development.
About Athalonz
Headquartered in Mesa, Arizona, Athalonz was founded by a diverse group of experts united by their love of baseball and their passion for innovation. Lead by Engineer Tim Markison, Orthopedic Surgeon Dr. Preston Wolin, Sports Scientist Gary McCoy, and joined by Major League Baseball Coaches Don Wakamatsu and Ty Van Burkleo, Athalonz is focused on creating breakthrough advances in Sports Science Technology.