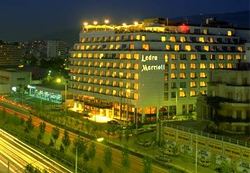 This will meet the need of our customer's seeking a green meeting and event experience in Athens.
Athens, Greece (PRWEB) October 16, 2009
Marriott International's major initiative as a global organization is to focus on social responsibility and contribute to the environment and communities where each hotel operates.
In this regard, the Athens Ledra Marriott hotel has created an all-new Green Meeting Package that minimizes harm to the environment during meetings and events. The Green Meeting Package utilizes environmentally friendly products focused on minimizing carbon footprint, reducing waste, and increasing recycling in the hotel's meeting rooms in Athens, Greece. Yvo van der Tol, Director of Sales and Marketing; "This will meet the need of our customer's seeking a green meeting and event experience in Athens."
The Athens Ledra Marriott Green Meeting Package will extend Marriott's vision to be the global leader that demonstrates how responsible hospitality management can be a positive force for the environment and create economic opportunities in the communities where we work and live.
According to Mr. Erich Zuri, General Manager, "We are focused on waste management, recycling programs, water efficiency, energy consumption, and associate education; we're looking to set an example." The hotel in Central Athens has implemented a Green Champions initiative as a clear dynamic of turning a vision into action, featuring "Green Ambassadors" of each of the hotel's different departments that will answer associate environmental questions and assist with education, often targeting simple practices that can make a big difference, such as turning off lights, shutting down electronics, printing double-sided documents, and more.
For more information about the Athens Ledra Marriott hotel, visit the hotel's website at: http://www.marriott.com/hotels/travel/athgr-athens-ledra-marriott-hotel/. For additional real-time updates on Athens Ledra Marriott hotel visit the hotel's twitter page at http://www.twitter.com/athens_marriott or join the group "Friends of Athens Ledra Marriott" on http://www.linkedin.com.
###