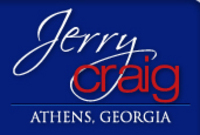 "Getting the timing right is vital in real estate investment," says Craig, "but you must be careful not to wait too long, especially since Athens is historically a strong market and it is already beginning to show signs of recovery."
Athens, Georgia (PRWEB) March 16, 2010
Jerry Craig, the leading specialist in Athens, GA real estate for sale, advises those interested in investing in Athens and Oconee County, GA homes to make their move now. With the first-time home buyer tax credit expanded to include repeat buyers and the deadline for signing a sales contract extended up to April 30, investors still sitting on the fence must make their choice soon before the opportunity passes them by.
"Getting the timing right is vital in real estate investment," says Craig, "but you must be careful not to wait too long, especially since Athens is historically a strong market and it is already beginning to show signs of recovery."
The seat of the University of Georgia (UGA), Athens was recently named one of the "10 Best Cities of 2009" by Kiplinger and was ranked #7 in Forbes.com's 2009 list of the "Top Ten Best Small Cities for Jobs." According to Forbes, "the region has exhibited steady growth - 10.4% - since 2004," which is no mean feat considering today's economic conditions.
"The demand for housing in the Athens-Clarke County and Oconee County region never really abates," says Craig, "especially given the fact that UGA is here and it has a student population of more than 30,000. That's a strong base and has attracted many businesses to the city." Craig urges investors to consider investing in Athens, GA real estate for sale before home prices and insurance rates get higher, and the deadline for the home buyer tax credit expires.
For more information on the Athens, GA real estate market, please visit Craig's site, JerryCraig.com. The most comprehensive resource on properties in the region, the site has recently been updated with more in-depth information on the real estate market in Athens-Clarke County and its nearby areas.
###