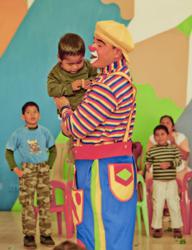 Motion pictures move people.
Spring Hill, TN (PRWEB) August 17, 2011
Athentikos, a non-profit film production organization that exposes need and inspires hope through the art of story, is turning to Kickstarter, an online "crowd-funding" platform, to raise support for its new documentary, Becoming Fools. This new feature film will follow Guatemala street youth as they train with professional clowns to earn an income and improve their chances for a better future.
Kickstarter is the largest funding platform for creative projects in the world. All projects must reach their funding goal in a specified timeframe; otherwise no money is awarded to the project. Athentikos' financial goal of $150,000 must be raised by October 4, 2011.
"We believe films are called motion pictures not only because they are pictures that are moving, but also because they have the power to move people," said Scott Moore, co-founder of Athentikos. "Audiences responded to our first film, Reparando, in amazing ways. We believe that Becoming Fools has the potential to connect to an even broader audience and make a difference in the lives of street youth."
Athentikos released its first feature-length documentary in 2010. Reparando tells the story of Guatemala's struggle to rebuild itself following a 36-year civil war. The story inspired audiences across the United States, Canada and Guatemala to respond to many social issues, including poverty and gang violence. Viewers responded through contributions of time and funding.
Becoming Fools features a similar message of hope and inspiration as Guatemalans help these street youth turn from a life of drugs and violence to a life of opportunity and security. Families are fostering abandoned children. Organizations are providing family support services, and orphanages are casting vision for adoption.
Athentikos hopes Becoming Fools will ignite a movement that will empower these street kids to rise above their situation.
"In order to understand this global issue, we must become fools, strip away our pre-conceived ideas and listen to the hearts of these children," said Moore.
Athentikos will tentatively begin production for Becoming Fools in October 2011 and premiere the film in the fall of 2012.
To learn more about the film, readers can visit http://www.becomingfools.com
Key words: Guatemala, homelessness, documentary, foster care, Athentikos, film, Kickstarter, clowns
Contact:
Scott Moore
smoore(at)athentikos(dot)com
Athentikos
615-852-8326
http://athentikos.com
http://becomingfools.com
###