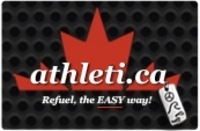 It's great to have a Canadian store. No more delays due to customs and duty. New products every week! I will recommend to all.
(PRWEB) April 8, 2011
Canadian athletes and fitness enthusiasts can now 'refuel the easy way' with athleti.ca, a new online superstore for endurance nutrition products. athleti.ca was founded by a triathlete who was tired of wasting time, money, and gas driving around to local sports stores trying to find the various nutrition products necessary for triathlon training.
"I created athleti.ca to make our lives easier, to buy us time, and to save our cars for more important things," said Sean Young, founder of athleti.ca. "When you're trying to cram 15 hours of training into an already jam-packed week, the absolute last thing you want to do is run out to the store to stock up on fuel for your weekend workouts."
"athleti.ca has everything I need to fuel up for each workout, perform at my best and recover quickly for my next key session. They understand that an athlete's time is best spent training, not driving around to 3 different stores to find all the different nutrition products they need. What's even better is that they are a Canadian company and carry great Canadian products like Kronobar and eLoad. athleti.ca is as crucial to my training as my century rides or hill repeats," said Gary Cooper, Triathlete, Marathoner, and Hockey Player.
athleti.ca carries top-of-line endurance nutrition products for cyclists, marathoners, triathletes, mountain-bikers, swimmers, rowers, cross-country skiers, hockey players, and fitness enthusiasts of all stripes. athleti.ca has a large selection of sports drinks and electrolyte drinks, recovery drinks, chews, gluten-free energy bars and protein bars, and vitamins, from brands including: GU, 1st Endurance, Honey Stinger, eLoad, Accelerade, Kronobar, nuun, Clif, Bonk Breaker, Elevate Me, Zym, Ultima, and Salt Stick. athleti.ca also features a collection of hydration gear from Fuel Belt and CamelBak.
"athleti.ca provides me with the optimal mix of specialized products supporting my training regimen. The products are world class. I experienced excellent customer service and the delivery was exceptional," said Phil Wilson, Masters Swimmer and Road Cyclist.
athleti.ca offers free shipping on orders over $100, and special discounts for members of athletic clubs and teams. "athleti.ca was a welcome addition to our running club's arsenal of training tools. Now we can get the nutritional items we need at a great savings without the run-around of trying to find our favourite products," said Marathoner and Toronto Beaches Running Club President Dave Emilio.
"It's great to have a Canadian store. No more delays due to customs and duty. New products every week! I will recommend to all," said Gilles Tessier, cyclist, and official torchbearer of the Vancouver Winter Olympics.
About athleti.ca
athleti.ca is an endurance nutrition superstore for Canadian triathletes, runners, cyclists, swimmers, rock-climbers, and extreme sports enthusiasts. Featuring top brands, including GU Energy, Fuel Belt, Clif, 1st Endurance, Honey Stinger, Accelerade, Salt Stick, and Ultima, at the lowest prices, free shipping in Canada, and discounts for club members.
# # #