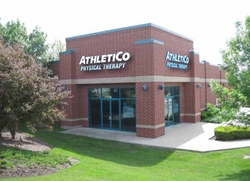 I am dedicated to providing outstanding and efficient evidence-based care that is personalized with respect to each patient's specific problem and incorporates his or her goals and values in the Bloomingdale community.
Oak Brook, IL (Vocus) September 16, 2010
AthletiCo Physical and Occupational Therapy , an Illinois and Milwaukee-based provider of rehabilitation services, will open its newest physical therapy center at 205 South Gary Avenue in Bloomingdale at the end of September. AthletiCo Bloomingdale's services include Physical Therapy , Sports Medicine, Orthopedic Rehabilitation, Work Rehabilitation, Functional Capacity Evaluations, Work Conditioning, and Video Gait Analysis.
With the opening of the Bloomingdale facility, AthletiCo named Brendan Yorke, PT, MHS, to the position of Facility Manager. Growing up in Naperville, Yorke was inspired to pursue a career as a physical therapist after being treated for multiple basketball-related injuries in high school. After graduating from Indiana University with a Bachelor of Science in Physical Therapy, he earned his post-professional Masters degree in Health Science with an emphasis on Orthopedic Physical Therapy from the University of Indianapolis. Yorke has been with AthletiCo for seven years and currently serves as the Co-Manager of AthletiCo's Endurance Sports Program.
Yorke is driven by the desire to help people reach their goals and return to work or their desired level of activity, which he describes as a very rewarding process. He also appreciates the challenges required to be a good physical therapist. He has consistently displayed an interest in continuing his education by pursuing an advanced degree in Health Science and certification as an Orthopedic Clinical Specialist through the AthletiCo Orthopedic Residency program in which he is currently enrolled.
Yorke's family, including his wife Jodi and young sons recently moved back to Wheaton. "We're thrilled to be here. Personally, I'm very excited to be part of a community that reminds me of my hometown. Clinically, I'm looking forward to working with a diverse population that includes a blend of adults and youth, as well as the manufacturing/workers' compensation sector," says Yorke. "I am dedicated to providing outstanding and efficient evidence-based care that is personalized with respect to each patient's specific problem and incorporates his or her goals and values. I also believe communication with the patient and his or her referring physician is crucial to creating the best possible experience and outcome."
Patients at AthletiCo Bloomingdale will have access to AthletiCo's industrial rehabilitation specialists, physical therapists, certified athletic trainers, and occupational/hand specialists who work with many of the local physicians in the Bloomingdale area.
For more information about AthletiCo Bloomingdale or to schedule a complimentary injury screening , please contact Brendan Yorke at 630.307.5910 or via e-mail at byorke(at)athletico(dot)com.
AthletiCo Bloomingdale
205 South Gary Avenue
Bloomingdale, IL 60108
Phone: 630.307.5910
Fax: 630.307.5913
Since 1991, AthletiCo has been the proud provider of rehabilitation, fitness, and performance services to many professional teams, performing arts companies, endurance programs, golf associations, volleyball clubs, high schools, colleges, and events in Chicagoland and Central Illinois.
AthletiCo provides orthopedic rehabilitation including physical and occupational therapy, work rehabilitation, performing arts rehabilitation, women's health therapy, spine control, pediatric physical therapy, vestibular rehabilitation, and athletic training. Expanded services include performance enhancement, fitness center memberships, golf fitness, endurance, nutrition, and massage therapy.
AthletiCo accepts all indemnity, PPO, POS, and WC plans including BC/BS, Humana, Medicare, Aetna (PPO/HMO), PHCS, UHC (PPO.HMO) and many others. As a courtesy to our patients, we verify insurance coverage.
AthletiCo Toll-Free Injury Hotline 877-ATHLETICO (1-877-284-5384)
http://www.athletico.com
CONTACT:
Leah Cybulski / Marketing Manager
630-575-6267 / lcybulski(at)athletico(dot)com
###