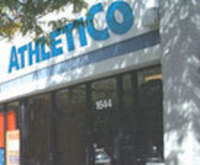 Responding to the needs of the patient population is our priority when we open new centers
Oak Brook, IL (Vocus) April 22, 2009
AthletiCo , an Illinois-based leader in physical therapy, fitness, and performance services, recently reached a milestone when it opened its 50th physical therapy center in Chicago's Hyde Park neighborhood and 51st center in suburban Naperville.
The most recent center openings represent continued growth for AthletiCo, which now has over 1200 employees and offers more than 16 specialty rehabilitation, outreach, and fitness services including physical therapy, occupational/hand therapy, work rehabilitation, massage therapy, athletic training outreach, personal training, and nutrition education. AthletiCo's range of services provides the Chicagoland community with both the rehabilitation and ongoing patient counseling and services needed to stay injury free and fit.
When AthletiCo president and founder, Mark Kaufman, opened the first AthletiCo center in 1991 at 1029 N. Clark Street in Chicago, he had one employee and provided services to two affiliations. Over the past eighteen years, Kaufman, a licensed physical therapist and certified athletic trainer, has overseen the growth of AthletiCo and the expansion of its services throughout Chicagoland and Central Illinois.
"Responding to the needs of the patient population is our priority when we open new centers," says Kaufman. "Our standard to provide high quality care and employ highly trained staff allows us to expand our business and meet the needs of the communities we serve."
With each new center opening, AthletiCo has also experienced growth in its athletic training outreach. Through its outreach services, AthletiCo now provides athletic training, rehabilitation, and fitness services to over 150 affiliations throughout Illinois, including over 60 high schools and many of Chicago's professional sports team including the Chicago Bears, Chicago Blackhawks, Chicago Bulls, Chicago Cubs, Chicago White Sox, and the Chicago Fire.
In addition to building relationships with the community, AthletiCo is equally devoted to developing professional growth and management opportunities for its employees. With the new center openings, AthletiCo named Jose Segura, PT, and Nathan Sels, PT, DPT, as facility managers at the Hyde Park and Naperville centers, respectively. Segura has been with AthletiCo since 2001 practicing at two different AthletiCo locations and gaining managerial experience as an assistant facility manager. Sels has been with AthletiCo for over three years and served concurrently as an assistant facility manager and the co-manager of AthletiCo's Golf Program.
Through the service and relationships AthletiCo has built through the years, combined with quality patient care and a full range of services, AthletiCo continues to grow and in late spring will open its 52nd and 53rd physical therapy centers in Park Ridge and South Elgin, Illinois.
To learn more about AthletiCo and its services and locations, please visit http://www.athletico.com or view our video on YouTube here.
CONTACT:
Maxine Olhava
Public Relations Manager
630-575-6228
# # #