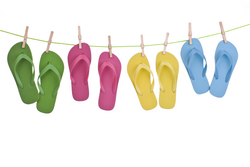 Shoes that do not offer proper arch support can lead to biomechanical abnormalities starting when the heel strikes the ground
Oak Brook, IL (Vocus) May 29, 2010
Summer is right around the corner, and the weather forecast will soon be calling for some fun in the sun. Sunscreen will be lathered on, hats will be worn, and of course, the summer clothes will be pulled out of storage. With the shorts, tank tops, and swim suits, also come the summer shoes, which include flip flops.
Flip flops are easy to slip on and off during the hot summer months and can be inexpensive to purchase. But just as the weather forecast has its highs and lows, flip flops can too. Some flip flops can be very cushioned, which lead people to believe they are good for the feet, but most offer little to no arch support. Flip flops can also be very flimsy, which causes them to breakdown quickly.
"Shoes that do not offer proper arch support can lead to biomechanical abnormalities starting when the heel strikes the ground," says Annie Malone, PT, MPT, AthletiCo Bolingbrook. "This in turn can lead to pain felt not only in the joints of the foot and ankle, but also in the knees, hips, low back, shoulders, and neck."
As a physical therapist, Malone says that it is common to see patients who come into treatment for a variety of reasons, many of which can be linked back to footwear and walking surfaces. She stresses the importance of finding a physical therapist who will evaluate the body from head to toe.
"Physically speaking, the human body is never as straight forward as it seems. Find a licensed professional who can take a whole-body approach to an ailment and figure out what is going on big picture. Patients also have to be very open and honest when answering questions about their activities, hobbies, occupation tasks, and footwear."
Malone advises that flip flops be worn with caution when someone has low back pain. She also suggests that everyone should assess how long they can wear flip flops on an individual basis and be aware of the effects this can have on their body. An additional way to keep feet healthy this summer is to look for a shoe that offers some type of air flow and adequate support to the inside arch of the foot. These types of sandals and flip flops are often more expensive, but if someone plans to spend the majority of the day and summer in them, the investment is worth the wear and tear it will save on the body.
Ultimately, proper flip flop choices will lead to a healthier, happier, and less painful body, all the way from your feet to your neck.
ABOUT ATHLETICO
Since 1991, AthletiCo has been the proud provider of rehabilitation, fitness, and performance services to many professional teams, performing arts companies, endurance programs, golf associations, volleyball clubs, high schools, colleges, and events in Chicagoland and Central Illinois. AthletiCo's first Wisconsin location opened in Milwaukee in December 2009.
AthletiCo provides orthopedic rehabilitation including physical and occupational therapy, work rehabilitation, performing arts rehabilitation, women's health therapy, spine control, pediatric physical therapy, vestibular rehabilitation, and athletic training/sports medicine. Expanded services include performance enhancement, fitness center memberships, golf fitness, endurance, nutrition, and massage therapy.
AthletiCo accepts all indemnity, PPO, POS, and WC plans including BC/BS, Humana, Medicare, Aetna (PPO/HMO), PHCS, UHC (PPO.HMO) and many others. As a courtesy to our patients, we verify insurance coverage.
AthletiCo Toll-Free Injury Hotline 877-ATHLETICO (1-877-284-5384)
http://www.athletico.com
Contact:
Maxine Olhava, Public Relations Manager
630-575-6228
molhava(at)athletico(dot)com
###