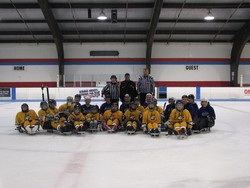 Sled hockey is an extremely demanding sport, and the Hornets organization is truly top notch
Oak Brook, IL (Vocus) April 17, 2009
AthletiCo, an Illinois-based leader in physical therapy, athletic training, fitness, and performance services, recently raised $6,300 for the Chicago Hornets Sled Hockey Team, part of the Amateur Hockey Association of Illinois, a 501-c3 organization. The Chicago Hornets provide kids ages 20 years and younger the opportunity, at no cost, to learn and enjoy the game of hockey. The funds raised go towards helping pay for equipment and for the Hornets largest expense, ice costs.
Fundraising for the Hornets was done in celebration of National Athletic Training Month held in March. AthletiCo employs the largest number of certified athletic trainers in the United States and provides services to numerous professional sports teams, performing arts groups, endurance programs, rugby clubs, tournaments, special events, and over 60 high school and college affiliations throughout Chicagoland and Central Illinois.
To raise support and awareness, AthletiCo employees participated in a Jean Day Fundraiser, sold raffle tickets, and participated in two charity sled hockey game against the Hornets Sled Hockey Team. Proceeds for all events went to the Hornets. This is the second year AthletiCo has supported the Hornets during National Athletic Training Month. In 2008, $4,200 was raised for the team.
One of AthletiCo's certified athletic trainers, Tom Asuma, participated in last year's charity game and found the game to be so fun and rewarding that he played in both games this year.
"Sled hockey is an extremely demanding sport, and the Hornets organization is truly top notch," says Asuma. "The Hornets' players expressed their appreciation and enthusiasm throughout. I really admire the skill and excitement that this group of kids brings to the sport despite some of the things they have had to overcome and endure. Their attitudes are inspiring and truly help us to re-focus on the positive things that we all have in our lives."
JJ O'Connor, general manager and founder of the Hornets Sled Hockey team, explains that many of the kids on Hornets team came to the sport quiet, reserved, and lacking self-confidence.
"By teaching them self-confidence, I believe we have allowed them to experience things they never thought they could," says O'Connor. "I think the biggest door we have opened in these kids lives is teaching them that their disability is really a disguise for all of their abilities."
Since 1991, AthletiCo has been the proud provider of rehabilitation, fitness, and performance services to many professional teams, performing arts companies, endurance programs, golf associations, volleyball clubs, high schools, colleges, and events in Chicago and its surrounding suburbs.
AthletiCo provides orthopedic rehabilitation including physical and occupational therapy, work rehabilitation, performing arts rehabilitation, women's health therapy, spine control, pediatric physical therapy, vestibular rehabilitation, and athletic training/sports medicine. Expanded services include performance enhancement, fitness center memberships, golf fitness, endurance, nutrition, and massage therapy.
AthletiCo accepts all indemnity, PPO, POS, and WC plans including BC/BS, Humana, Medicare, Aetna (PPO/HMO), PHCS, UHC (PPO.HMO) and many others. As a courtesy to our patients, we verify insurance coverage.
AthletiCo Toll-Free Injury Hotline 877-ATHLETICO (1-877-284-5384)
http://www.athletico.com
###