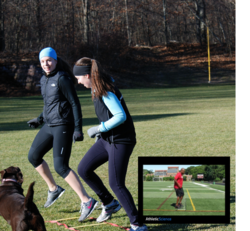 Athletic Science helps parents utilizes technology to get kids moving in the New Year
(PRWEB) December 31, 2012
In the year 2013, parents can help their children use technology to make the healthy resolution of getting active during the New Year. By going to http://www.athleticscience.com, kids create their own private profile, complete with their picture and bio. Profiles permit kids to set healthy goals, like run a 5k for the first time, learn to play golf or learn a new pitch. Kids can share goals and progress with members of their "invite only" Athletic Science social groups. In 2011, Psychology of Sports and Exercise published a study that found that "the exercise habits of people you know have a positive influence on your exercise habits". Athletic Science utilizes social groups to build a support network on line for staying active in the New Year. Now instead of using Instagram or Facebook and waiting for likes on photos, kids can post healthy goals, publish progress and more with their peers, mentors, family or coaches.
Tablets and smartphones are changing how the next generation learns, interacts, grows and develops and now parents can take advantage of this technology to get kids moving in the New Year. This new cloud based technology lets kids use their tablet or phone to access fitness and sports drills under the guidance of the best coaches. With the dramatic increases in inactivity and obesity it is time to begin using technology to better the lives of tweens/teens and families.
If any member of the Athletic Science community needs advice and coaching instruction to help reach their goals they can connect with role models and professional sports coaches. For example, a child looking to get fit can set a goal to run a 5 k in six months and connect with an athletic trainer online. By using a Smartphone they send a video of their starting point to a coach (a video of themselves running for 60 secs). Based on the video and a detailed request, you can submit a lesson to an athletic trainer. The trainer will analyze running form, fitness level and prescribe a weekly lesson plan to help them reach goals. The lesson plan can include video drills and a step by step plan on their Smartphone or tablet. During the first week of training communication is encouraged within the lesson context in order to guarantee that the student is comfortable with the exercise plan. To check out an example of an athletic trainer login by creating a profile go to the page http://www.athleticscience.com/dragonconditioning. Learn how athletic trainers and coaches have helped different kids get fit and reach their fitness or sports goal. It's easy to view an instructor's drill library and read athlete testimonials. For $30 you can have the head trainer develop a private sports fitness program. The lesson will be immediately accessible on smartphones, tablets or traditional computers and stored in the Athletic Science private profile.
For a new or experienced athlete Athletic Science have sports coaching in 16 sports with experienced coaching professionals. Athletes can purchase or earn instructional drills to keep in their profile. Athletes can also receive private instruction by sending video of themselves playing or practicing the sport. Coaches will send the video back marked up with coaching suggestions and drill recommendations. All lessons remain in the profile complete with social sharing capabilities.
To check out a baseball/softball coach and see what a lesson would look like, create an account and go to http://www.athleticscience.com/joshhorton After reading his bio click on his sample lesson to see an example of his coaching style or check out his drill library. You can spend three weeks working with this coach for just $115.
Founded in October 2012, Athletic Science is the only website that enables kids to work with carefully screened coaches without any geographical or schedule restrictions. Anyone can sign up for Athletic Science and connect with people they know, elite coaches and successful athletes in a trusted environment. Athletic Science is a privately owned company in Boston, MA.